Peach-Berry Wine Fizz
AOÛT 2017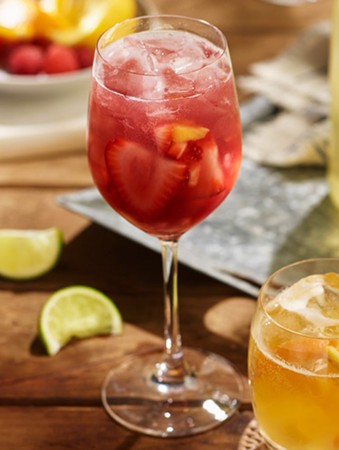 Peach-Berry Wine Fizz
AOÛT 2017
BY: Michelle P. E. Hunt/Laura Panter
The fruit in this recipe is flexible allowing you to use what you have on hand.
2 oz red wine
4 oz Citrus Soda (recipe below)
Fresh fruit, such as 3 chopped strawberries, ¼ fresh or frozen peach, chopped, and/or
1 chunk pineapple
Strawberry slice, for garnish
1. To a wine glass filled with ice, add wine and Citrus Soda. Top with fresh fruit. Stir to mix. Garnish with strawberry slice.
TIP : Use handmade sodas within 24 to 48 hours for best results.

Citrus Soda
Delicate and zesty soda can be put together in a snap.

½ oz lemon juice
½ oz lime juice
½ oz pink grapefruit juice
2 oz simple syrup (see recipe below)
3 cups soda water
1. To a lidded container, add lemon juice, lime juice and grapefruit juice. Add simple syrup. Top with soda water. Seal and refrigerate for up to 24 hours.

Simple Syrup
Combine equal parts sugar and boiling water, and stir until sugar has dissolved. When cool, store in a sealed container in the refrigerator for up to 2 weeks.
Makes enough for 6 or 7 cocktails
SHARE