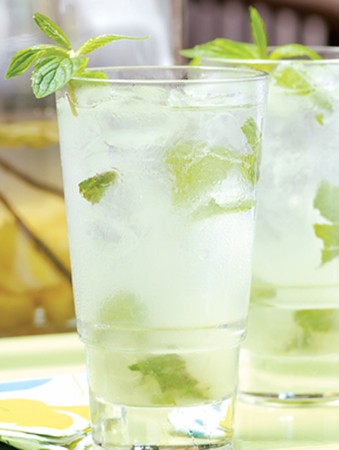 BY: Michelle P. E. Hunt and Laura Panter
1. In a cocktail shaker filled with ice, add 1½ oz Caribbean Infusion, 2 oz passion fruit juice and 2 oz pineapple juice.

2. Shake until frothy and strain into a Martini glass.

3. Garnish with a pineapple spear.
Caribbean Infusion
Distilled from sugar cane, rum contains its own natural sweetness, which makes it a wonderful spirit for infusions. Try this Caribbean Infusion in a Island Party Colada or Spiced Mojito.

1. To an infusion jar or lidded jar, add one 750 mL bottle white rum, 1 vanilla bean split lengthwise, ½ tsp cardamom seeds and 2 cups diced fresh or canned pineapple.

2. Infuse for 1 to 2 weeks. Open the jar and stir to mix before straining and discarding the fruit, vanilla and seeds.

3. Add ¼ to ½ cup Simple Syrup (recipe follows) to taste, if desired.


Simple Syrup
To make simple syrup, combine equal parts sugar and boiling water, stir until the sugar has dissolved, and store in the fridge until chilled.


Island Party Colada
1. To a blender, add 1 cup ice, 1½ oz Caribbean Infusion and 3 oz Piña Colada mix.

2. Blend until slushy and pour into a Daiquiri glass.

3.Garnish with a maraschino cherry.


Spiced Mojito
1. To a highball glass, add 5 to 7 torn mint leaves, ¼ oz lime juice and ¼ oz Simple Syrup. Muddle or mash with a long spoon.

2. Fill the glass with ice and add 1½ oz Caribbean Infusion and top with soda water.

3. Stir to mix and garnish with a mint sprig.
SHARE