Papaya Salad (Som Tam)
Early Summer 2019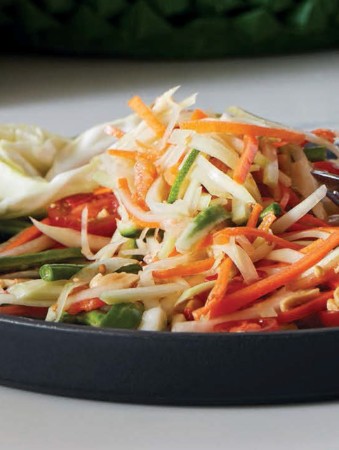 Papaya Salad (Som Tam)
Early Summer 2019
BY: Nuit Regular
Chef Regular's recipe is the most authentic papaya salad I have ever made, but ingredients could be a problem if you do not live in a city with an Asian market. Here are several substitutions. You can use fresh shrimp instead of dry, about ¼ lb (115 g) small shrimp, cooked. An Asian eggplant will replace the tiny round Thai eggplants that are generally used. Long beans are authentic: they are about 12 inches (30 cm) long, but about 8 regular green beans will work too. This recipe doubles beautifully and can be served with sticky rice if desired. 
3 tbsp (45 mL) fish sauce
2 tbsp (30 mL) tamarind paste (see TIP 1)
2 tbsp (30 mL) fresh lime juice
2 tbsp (30 mL) coconut sugar
1 to 3 Thai red bird's-eye chilies
1 garlic clove, peeled
6 cherry tomatoes, cut in half, about † cup (80 mL)
2 long beans, trimmed and cut into 1-inch (2.5-cm) pieces, about ¼ cup (60 mL)
¼ green papaya, washed and seeded (about 2 cups/500 mL)
½ cup (125 mL) julienned carrots
2 Thai eggplant, halved, seeds removed, and cut lengthwise into matchsticks
½ cup (125 mL) large dried shrimp, chopped if desired
⅓ cup (80 mL) roasted peanuts, chopped

OPTIONAL GARNISH
2 thin wedges Flat/Taiwanese cabbage
8 sawtooth coriander leaves (also called culantro) or ½ cup (125 mL) fresh cilantro leaves
1 Combine fish sauce, tamarind paste, lime juice and coconut sugar. Set aside.
2 Depending on your tolerance for heat, pound 1 to 3 chillies and garlic into a coarse paste using a mortar and pestle (see TIP 2). Add tomatoes and beans. Lightly bruise the mixture until liquid releases.
3 Peel papaya, and shred into ⅛-inch (3-mm) matchsticks (see TIP 3).
4 Transfer papaya, carrots, eggplant and shrimp to a serving bowl. Add green bean mixture and reserved dressing and toss to combine. Sprinkle with peanuts.
5 Spoon papaya salad onto a plate and, if desired, pile cabbage and coriander leaves alongside. Makes about 3 cups (750 mL); serves 2 people
TIP 1
To make tamarind paste, combine 8—oz (225-g block) tamarind pulp with 2 cups (500 mL) boiling water in a heatproof bowl. Let stand 15 minutes then strain through a fine sieve, discarding any pith and pips. To make a substitute for tamarind paste, mix 1 tbsp (15 mL) lime juice, 1 tbsp (15 mL) dark brown sugar and 1 chopped date; purée them together with a stick blender.
TIP 2
To replace mortar and pestle, place ingredients in a sturdy plastic bag and squeeze out the air. Using a rolling pin or the back of a pot, pound the ingredients until slightly pasty.
TIP 3
To make the papaya slivers, use a cheese grater to grate the papaya or cut it the traditional way by hacking into the peeled papaya with your knife along its length until there are numerous vertical cuts, and then shaving off a thin layer. Repeat until you have enough green papaya slivers. You can also use a mandoline with the shredder blade or a julienne peeler.
SHARE