Pannukakku with Birch Syrup & Wild Blueberries
Hiver 2016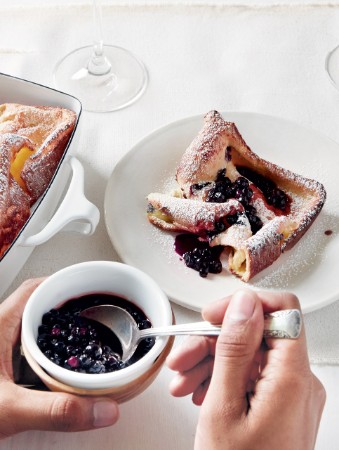 Pannukakku with Birch Syrup & Wild Blueberries
Hiver 2016
BY: Christopher St. Onge
This spectacular oven pancake and its topping are Finnish, through and through. With a climate similar to Canada's, Finland shares a love of wild blueberries and birch forests. Finland has a long history of using birch sap, and its celebration and use is on the rise there. Blueberries and birch syrup have a natural affinity for each other, but if you can't find birch syrup, simply substitute maple syrup. If you want to make this more substantial, serve with a few slices of thick-cut bacon.
¾ cup (175 mL) frozen wild blueberries, divided
¼ cup (60 mL) birch syrup
1 cup (250 mL) milk
4 eggs
½ tsp (2 mL) vanilla extract
2 tsp (10 mL) lemon zest
1 cup (250 mL) all-purpose flour
½ tsp (2 mL) salt
¼ cup (60 mL) sugar
¼ cup (60 mL) melted butter
Icing sugar for dusting
1 In a small bowl, combine ½ cup (125 mL) frozen blueberries with the birch syrup. Allow to stand while making the pannukakku.

2 Place a 9 x 13-inch (23 x 33-cm) baking dish in the oven and preheat to 425°F (220°C).

3 Meanwhile, whisk together milk, eggs, vanilla extract and lemon zest. Add flour, salt and sugar, and whisk until no lumps remain.

4 Remove pan from oven, pour in butter and, using a brush, coat bottom and sides of pan. Pour batter in, sprinkle over remaining ¼ cup(60 mL) blueberries, and carefully transfer to oven. Bake for 20 to 25 minutes or until puffed and deeply golden.

5 Allow to settle for 5 minutes, dust with icing sugar, and cut into 6 pieces. Serve with blueberry birch syrup.
SHARE