Pannekoek with Maple Bacon
Winter 2020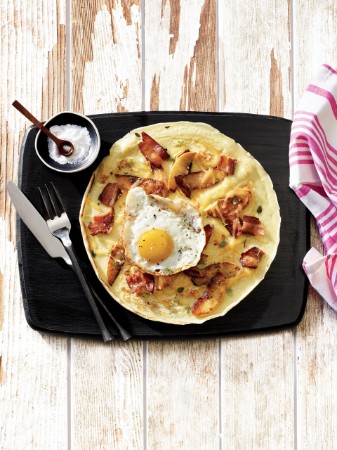 Pannekoek with Maple Bacon
Winter 2020
BY: Lucy Waverman
I watched the chef at Pancake! in Amsterdam make these pancakes, which are larger and thicker than crepes. The chef put raw apples on the pancake in a cast iron pan but used a blowtorch to cook them. I precooked mine. Fill with bacon, sausage, veggies, smoked trout, even leftovers. They are usually eaten rolled up. For a heartier breakfast, serve pannekoek flat and top each with a fried egg. Omit the maple from the batter for other savoury fillings. These are best out of the pan, but you can keep them warm in the oven for a few minutes while you make the other ones.
BATTER
1 cup (250 mL) all-purpose flour
¾ tsp (4 mL) kosher salt
½ tsp (2 mL) baking powder
2 eggs, room temperature
1 cup (250 mL) milk, room temperature
1 tbsp (15 mL) melted unsalted butter
2 tsp (10 mL) maple syrup

TOPPINGS
6 slices (5 oz/140 g) bacon, cut into 4 pieces
1 tart apple, cored and thinly sliced
1 tsp (5 mL) chopped fresh thyme
4 tsp (20 mL) grape-seed oil or other neutral oil, divided
1 cup (250 mL) grated Gouda cheese
1 Sift together flour, salt and baking powder in a large bowl. Whisk together eggs, milk, melted butter and maple syrup in a separate bowl. Gradually whisk wet ingredients into dry until nearly smooth, with a few small lumps remaining.

2 Heat a 10-inch (25-cm) cast iron skillet over medium heat. Add bacon and cook until crisp, 6 to 8 minutes. Remove bacon to a plate and crumble into pieces. Discard bacon fat, leaving 1 tbsp (15 mL). Heat fat over medium heat, add apples and thyme and cook until tender and beginning to brown, about 4 minutes. Set aside and wipe out skillet.

3 Reheat cast iron skillet over medium heat and add 1 tsp (5 mL) oil. Pour a scant ½ cup (125 mL) batter into pan and swirl to coat the whole pan. Scatter in quarter of bacon and apples and cook until edges of batter have set and bottom is lightly golden, 1 to 2 minutes. Flip over and cook second side until golden, about 1 to 2 minutes longer.

4 Invert pancake onto a plate, bacon-side up, sprinkle with cheese and roll up, or serve flat topped with a fried egg, if desired. Keep warm for a few minutes in a 200°F (100°C) oven. Repeat with remaining oil, batter, bacon, apples and cheese.
COOKING WITH CAST IRON
Renowned for producing flavours and textures no other pans provide, cast iron merits this quick guide to mastering its secrets.
SEASONING
Cast iron pans must be seasoned. Most pans today come pre-treated, but do it again. Wash the pan with a little water and dry well. Soak a paper towel with vegetable oil and rub all over the pan. Keep swabbing until the pan has a sheen. Heat the oven to 350°F (180°C). Place the pan upside down on the middle oven rack (put some foil on the rack below to catch any drips) and bake for 1 hour. Turn off the heat and let the pan cool down inside the oven. It is now ready for cooking.
SIZE
If you buy only one pan then buy a 10-inch (25-cm) pan. A 12-inch (30-cm) pan is a good size for big steaks and vegetables.

SAFETY
Remember to cover the handle when you take it out of the oven to avoid burning your hand.
WASHING
Wash with warm soapy water and dry immediately. Coat with a little oil the first few times you use it.
SHARE