Panko-Topped Broiled Oysters in a Scallion Cream Sauce
Holiday 2018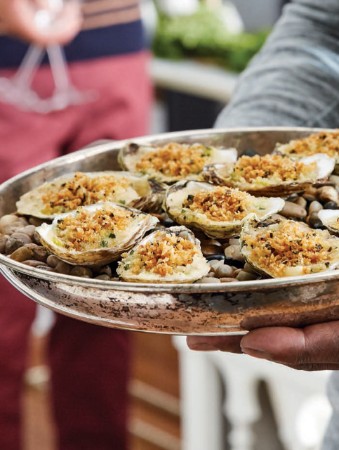 Panko-Topped Broiled Oysters in a Scallion Cream Sauce
Holiday 2018
BY: Signe Langford
To serve, we love the look of a tray or platter of carefully washed pea gravel or natural aquarium gravel with the cooked oysters nestled in. Figure on four oysters—or more—per person. Also, note, there is no need to add salt to the recipe; the oysters are briny enough! The only salt called for is used as a bed to stabilize the sauced oysters for roasting.
4 to 6 cups (1 to 1.5 L) coarse or rock salt, depending on size of cookie sheet
24 to 30 fresh oysters; always buy a few more than the recipe calls for in case some are bad
½ cup (125 mL) butter, divided
1 tsp (5 mL) pepper, divided
3 tbsp (45 mL) flour
1 bunch (6 to 8) scallions, washed and trimmed, white and tender green parts, thinly sliced, about cup (125 mL) sliced
¼ cup (60 mL) dry white wine
½ cup (125 mL) 10% cream (half & half).
¾ cup (175 mL) panko bread crumbs
¼ cup (60 mL) finely chopped fresh chives
1. Spread out the coarse salt in a thick layer over a cookie sheet; set aside.

2. Rinse oysters in the shell under cold, running water to remove any sand and grit.

3. Shuck oysters into a sieve set over a bowl. Set aside in the fridge and allow oysters to drain, reserving oyster liquid.

4. Nestle the deeper, more bowl-shaped shells into the salt on the cookie sheet; set aside while making the sauce and crumb topping.

5. Into a saucepan over medium heat, add ¼ cup (60 mL) of the butter, ½ tsp (2 mL) pepper and the flour, stirring constantly until the flour and butter mixture is thick and developing some colour, about 3 to 5 minutes.

6. Add the scallions and continue cooking and stirring constantly for about another 3 minutes or until the scallions are beginning to soften.

7. Add the wine and ¾ cup (175 mL) of the reserved oyster liquid; stir to combine, then add the cream, stirring constantly until the sauce becomes thick and begins to bubble, about 3 to 5 minutes. Turn off heat and set aside.

8. To make the crumb topping, add the panko crumbs, remaining ¼ cup (60 mL) melted butter, remaining ½ tsp (2 mL) pepper and chives to a bowl; stir to combine well.

9. Return the drained oysters to their shells, then top with about 1 tbsp (15 mL) of the sauce. Try not to overflow and make sure the shells are nice and balanced in the salt. Now, top each oyster with about 1 to 2 tsp (5 to 10 mL) of the crumb mixture, depending on size of shell.

10. Just before ready to serve, pop the oysters onto the middle rack in a preheated 400°F (200°C) oven for 5 minutes, then turn the oven onto broil. Rotate the pan once or twice, keeping an eye on the colour of the crumb; don't let it get too dark or it will be very bitter, about 5 minutes.

11. Transfer oysters to serving platter of clean gravel and serve while hot with small forks.
Makes 24 to 30 oysters, serves 6, makes about 1¾ cups (425 mL) sauce
SHARE