Pan-Seared Calamari with Tomatoes, Pine Nuts and Capers
Hiver 2008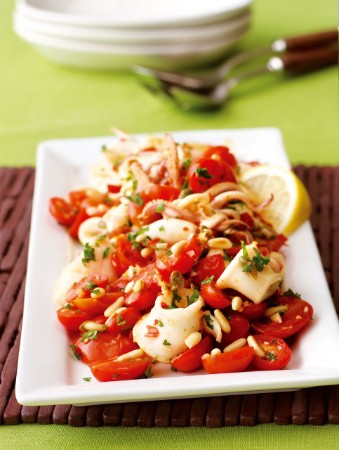 Pan-Seared Calamari with Tomatoes, Pine Nuts and Capers
Hiver 2008
BY: Tonia Wilson-Vuksanovic
This robust and flavourful dish is great warm or at room temperature. Make sure to serve it with good quality bread and extra lemon wedges for garnish.
3 tbsp (45 mL) olive oil, plus more for sautéing
¼ cup (50 mL) fresh lemon juice
Grated rind of 1 lemon
¼ tsp (1 mL) chili flakes
1½ lb (750 g) whole calamari (squid), about 7 tubes with tentacles, cleaned, trimmed and sliced into large 2-inch (5-cm) pieces
2 tsp (10 mL) garlic, finely chopped
2 tsp (10 mL) capers, drained and coarsely chopped
1 pint (550 mL) cherry tomatoes, halved lengthwise
¼ cup (50 mL) water
1 tbsp (15 mL) pine nuts, lightly toasted
1 tbsp (15 mL) fresh parsley, finely chopped
Salt and freshly ground black pepper to taste
1. Stir together 1 tbsp (15 mL) olive oil, lemon juice, rind and chili flakes in a baking dish. Add calamari and marinate in the refrigerator for 2 hours.

2. Heat 2 tbsp (25 mL) olive oil over medium-high heat in a large sauté pan. Remove calamari from marinade, wipe off excess liquid (reserve marinade). Sear calamari bodies and tentacles until the meat becomes firm and lightly golden, about 3 minutes on each side. Remove from pan and set aside.

3. Lower heat. In the same pan, add the garlic and capers; sauté until lightly golden, about 4 minutes. Add tomatoes and return heat to medium-high. Sauté 4 minutes or until the tomatoes begin to soften. Add marinade, water and calamari to the pan and heat through for 3 minutes.

4. Stir in the pine nuts and parsley, season to taste and serve warm.
Serves 4 as tapas and 2 as a main course
SHARE