Pan Roasted Veal with Rosemary and Balsamic Vinegar
Autumn 2001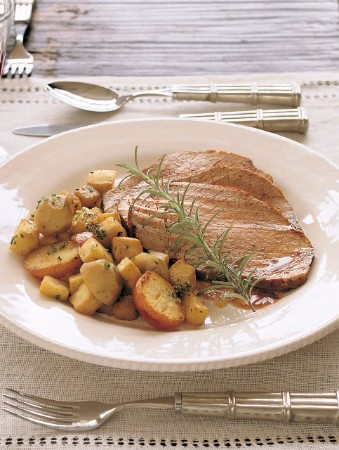 Pan Roasted Veal with Rosemary and Balsamic Vinegar
Autumn 2001
BY: Lucy Waverman
An outstanding way to cook veal. Although you can use other cuts, veal shoulder has some fat so the roast is succulent and juicy, not dry. This veal is cooked on top of the stove, very slowly for maximum flavour.
3 1/2 lb (1.75 kg) boneless veal roast
1 clove garlic, split in half
Salt and freshly ground pepper
2 tbsp (25 mL) olive oil
1 tbsp (15 mL) butter
One 3-inch (8-cm) sprig fresh rosemary, or 2 tsp (10 mL) dried
1 small onion, finely chopped
2 tbsp (25 mL) finely chopped Italian parsley
1/2 cup (125 mL) red wine
1 1/2 cups (375 mL) chicken stock
1/2 cup (125 mL) balsamic vinegar
1. Rub veal with split garlic clove and reserve garlic. Sprinkle veal with salt and pepper.

2. Heat the oil and butter in a heavy casserole large enough to hold the veal snugly.

3. Over medium-low heat, slowly brown the veal on all sides. It will take about 20 minutes. Add rosemary and onion. Cook 2 minutes longer. Pour off all but 2 tbsp (25 mL) fat.

4. Add reserved garlic, parsley and wine to the pan. Cook on medium heat, scraping up all the bits on the bottom of the pan until the wine has evaporated.

5. Combine stock and vinegar. Add about 1/2 cup (125 mL) stock-vinegar mixture and bring to a gentle simmer. Partially cover pan and cook, basting veal occasionally with the pan liquid, until the liquid has reduced slightly. Continue to baste veal every 20 minutes with another 1/2 cup (125 mL) stock mixture. It should be kept moist, but not wet. Turn the veal occasionally.

6. Cook for about 1 1/2 to 2 hours, or until the veal is tender and juices run clear. Remove from the pan and skim the fat from the liquid. If the sauce is watery, boil down until about 1 cup (250 mL) remains and it is rich in flavour. Thinly slice the veal and moisten with the pan sauce.
SHARE