Oyster & Seafood Ceviche Shooter
Spring 2014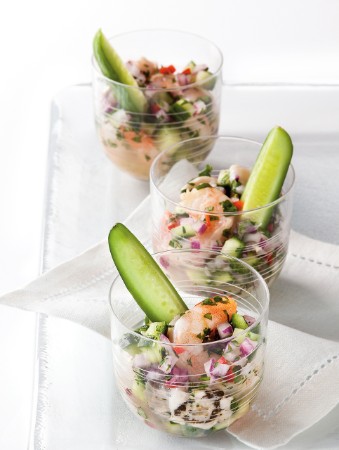 Oyster & Seafood Ceviche Shooter
Spring 2014
BY: Signe Langford
For this shooter, use a more squat, wide-mouth shot glass; it will be easier for you to fill and it will allow your guests to get every last deliciously tangy morsel. And don't forget, make sure each glass gets an oyster! Not all limes are created equal. Always bring home more limes than the recipe calls for; sometimes they are juicy, sometimes they are as dry as a bone.
Juice of 1 lime for the blanching water
2 cups (500 mL) small shrimp
(about 41/50 count), fresh or thawed,
raw, peeled and deveined
½ large red onion, peeled
½ English cucumber
1 cup (250 mL) raw bay scallops (those are the
tiny ones), fresh or thawed, cut into halves
12 live, freshly shucked oysters and their liquid
1 hot chili pepper—mild jalapeño to scorching
Thai—your choice!
½ cup (125 mL) cilantro leaves, washed
in cold water, patted dry
Juice of 1 orange
½ tsp (2 mL) sea salt or more to taste
Freshly ground black pepper to taste
Juice of 2 to 3 limes, about ½ cup (125 mL)
1 Over high heat, bring a large pot of salted water plus the juice of 1 lime to a boil. Blanch the raw shrimp by dropping them in and quickly scooping them out after about 30 seconds to 1 minute—they should be just turning pink and starting to curl. Plunge the shrimp directly into a bowl of ice cold water to stop the cooking. Once cooled completely, drain and set aside in colander to dry.

2 Finely dice the red onion. Add to a large non-reactive bowl; glass is best.

3 Wash and seed the cucumber by slicing it open lengthways down the middle, and dragging a small spoon along the seed core, scooping seeds out. Finely dice the seeded cucumber and add to the onion.

4 Add halved scallops to the onion and cucumber; add the fully cooled and drained shrimp. Shuck the oysters and add them and their juice to the onion mixture.

5 Very finely dice the hot pepper, making sure to remove the seeds; add to onion mixture. Pat cilantro dry with kitchen towel and finely chop the leaves, avoiding larger stems, and add to onion mixture. Add the orange juice, salt and pepper and the second amount of lime juice to the bowl. Stir and refrigerate, covered, for at least 4 hours and up to12 hours, but not longer. Marinating for too long can render seafood tough. While chilling, stir every now and then for even chemical "cooking."

6 To serve, spoon the solids equally between glasses, then add the liquid. Consider inserting a breadstick, cucumber baton or espresso spoon into each glass for easy eating.
SHARE