Oyster Fritters
Temps des Fêtes 2004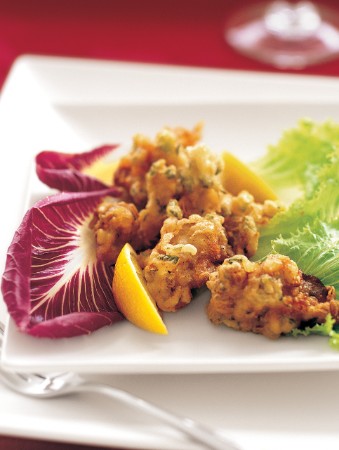 Oyster Fritters
Temps des Fêtes 2004
BY: Lucy Waverman
This delicacy may be served as an hors-d'oeuvre before dinner or as a first course with a small salad. The fritters can be reheated in a 350º F (180ºC) oven for 5 minutes but they are at their crispest straight out of the skillet. Oysters in Victorian times were plentiful and cheap. They were served raw, or as fritters.
12 large oysters
2 tbsp (25 mL) butter
½ cup (125 mL) chopped shallots
½ cup (125 mL) chopped celery
1 tsp (5 mL) chopped garlic
½ cup (125 mL) all-purpose flour
2 tbsp (25 mL) cornstarch
½ tsp (2 mL) baking powder
Salt and freshly ground pepper
1 egg, beaten
1/3 cup (75 mL) cold water
2 tbsp (25 mL chopped parsley
Oil for frying
1. Drain oysters in a strainer for a few minutes. Coarsely chop oysters and return to strainer until ready to use.

2. Heat butter in skillet on medium heat. Add shallots and celery and sauté for 2 minutes or until softened. Add in garlic and cool.

3. Sift together flour, cornstarch, baking powder, salt and pepper. Make a well in centre and add egg and water. Slowly stir into flour mixture. Stir in shallot mixture and parsley. Stir in oysters.

4. Heat ½-inch (1-cm) oil in skillet on medium-high heat until a cube of bread turns brown in 15 seconds.

5. Drop fritter into oil, 2 tbsp (25 mL) at a time, and cook until golden brown, about 1 minute per side. Drain and serve immediately.
SHARE