Orange Blossom Iced Tea
Début de l'été 2004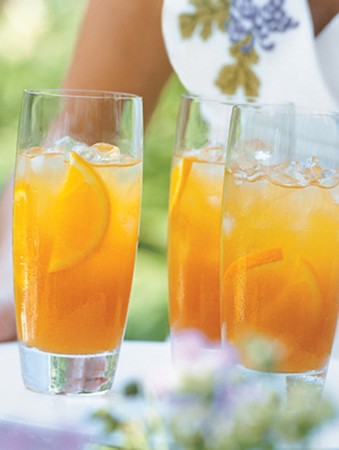 Orange Blossom Iced Tea
Début de l'été 2004
BY: Dana Speers
Orange flower water lends a floral note to this fruity iced tea. It's available at gourmet grocery stores but can be omitted if you can't find it. You can substitute regular orange herbal tea bags for the spiced mandarin variety.
4 cups (1 L) water
1/4 cup (50 mL) sugar
1 vanilla bean, scraped
4 cups (1 L) freshly squeezed orange juice (9 Valencia oranges)
1 cup (250 mL) freshly squeezed pink grapefruit juice (2 medium pink grapefruits)
12 spiced mandarin herbal tea bags
1/2 tsp (2 mL) orange blossom water, optional
1 cup (250 mL) gin

Garnish
Orange slices
1. In a medium saucepan, bring the water, sugar and vanilla bean to a boil, stirring to dissolve the sugar. Remove the pan from the heat and cool mixture to room temperature. Pour mixture into a glass pitcher and add the orange juice, grapefruit juice and tea bags. Stir to combine and refrigerate overnight.

2. The next day, remove the tea bags, squeeze them over the pitcher and discard. When ready to serve, add the orange blossom water and gin. Add ice, and stir to combine. Garnish with orange slices.
SHARE