Orange and Sichuan Pepper-Crusted Duck Salad
Printemps 2011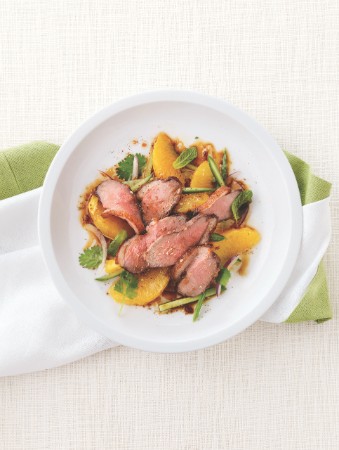 Orange and Sichuan Pepper-Crusted Duck Salad
Printemps 2011
BY: Christopher St. Onge
Steaming the duck and then coating it in a Sichuan peppercorn-spiked crust before frying yields a perfectly cooked duck breast, crispy on the outside and juicy pink on the inside. While the layer of fat on the duck adds a luxurious richness to the finished salad, you may remove it if you wish: steam duck as directed, allow to cool, and remove the fat in one piece before proceeding with the recipe.
DUCK
12 to 14 oz (375 to 400 g) duck breast
2 tbsp (25 mL) all-purpose flour
1 tbsp (15 mL) roasted and ground Sichuan peppercorns
½ tsp (2 mL) ground cinnamon
½ tsp (2 mL) ground white pepper
½ tsp (2 mL) salt
Peanut or vegetable oil for frying

DRESSING
2 tbsp (25 mL) soy sauce, preferably Japanese
1 tbsp (15 mL) sugar
¼ tsp (1 mL) grated or minced ginger
1 tbsp (15 mL) peanut or vegetable oil
1 tsp (5 mL) sesame oil

SALAD
½ tsp (2 mL) roasted and ground
Sichuan peppercorns
Pinch salt
4 medium seedless oranges, peel and pith removed
1 cup (250 mL) julienned cucumber
1 cup (250 mL) loosely packed mint leaves, larger ones torn in half
½ cup (125 mL) loosely packed coriander leaves
¼ cup (50 mL) thinly sliced red onion
1 Pour water to a depth of ½ inch (1 cm) into a large sauté pan and bring to a boil over high heat. Place the duck breast fat-side down into the water, cover, reduce to heat to medium, and cook for 8 minutes. Remove duck from pan, discard water, and allow breast to cool for 5 minutes.

2 Using a dinner plate, combine flour, Sichuan peppercorns, cinnamon, white pepper and salt. Pat duck dry with paper towel and press both sides into flour mixture, ensuring duck is evenly coated. Heat a 1-inch (2.5-cm) depth of oil in a large sauté pan over medium-high heat and fry duck for 3 minutes a side, or until crisp and deeply browned. Allow to rest while assembling the remaining ingredients.

3 Using a small bowl, make the dressing by combining the soy, sugar and ginger. Stir until the sugar is dissolved and top with peanut and sesame oils.

4 Combine ½ tsp (2 mL) Sichuan peppercorns with a pinch of salt and set aside. UUsing a sharp knife, cut the oranges into segments leaving the core and membranes behind.In a large mixing bowl, gently toss orange segments with cucumber, mint, coriander and onion. Slice the duck into thin slices, divide the orange and cucumber mixture between 4 salad plates, and top each with an equal portion of duck. Spoon a small amount of dressing over each salad and sprinkle each with a little of the peppercorn and salt mixture.



SHARE