Onion Rye, Mushroom, Gouda & Ham Grilled Cheese
Automne 2009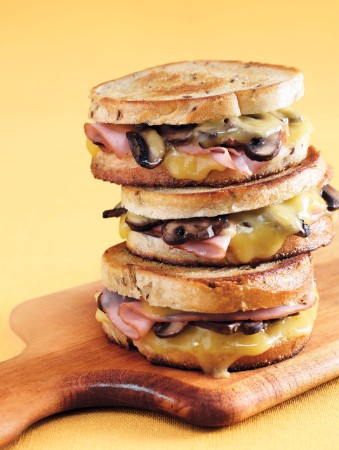 Onion Rye, Mushroom, Gouda & Ham Grilled Cheese
Automne 2009
BY: Heather Trim
Thunder Oak Gouda from Thunder Bay has been at the forefront of great cheese making for several years. Not only does the company make an excellent traditional Gouda, it also offers flavoured goudas such as cumin or jalapeño. Available in specialty cheese stores or on-line at www.cheesefarm.ca.
4 tsp (20 mL) butter, at room temperature
1 cup (250 mL) mushrooms, sliced
Salt and freshly ground pepper
4 slices onion rye or light or dark rye, with or without caraway seeds
Honey Dijon or regular Dijon mustard
4 oz (125 g) Ontario Gouda or cheddar, thinly sliced
2 thin slices black forest ham
1. Melt half the butter in a large frying pan over medium-high heat. When it starts to sizzle, add mushrooms. Stir frequently until softened and browned, about 3 minutes. Stir in pinches of salt and pepper. Remove from heat. Turn mushrooms into a bowl. Wipe pan clean.

2. Spread remaining butter over 1 side of each slice of bread. Spread 2 slices with mustard followed by half the Gouda, a slice of ham, folding to fit if needed, mushrooms, remaining Gouda and bread, butter-side out.

3. Return large frying pan to medium heat. Add sandwiches to pan. Cook until cheese is melted and bread slices are golden, 3 to 4 minutes a side. Press with spatula to help sandwiches stick together better.
SHARE