Olive Oil Carrot Cupcakes
Autumn 2015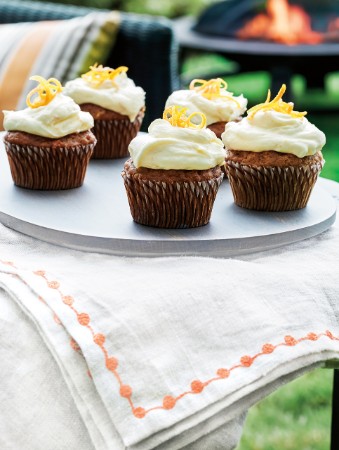 Olive Oil Carrot Cupcakes
Autumn 2015
BY: Signe Langford
Carrot cake is one of the few North American cakes that traditionally calls for oil instead of butter, and because it uses a fair bit, pick a light olive oil—one that won't impart a big olive flavour. We've switched out most of the white sugar for honey and a drop of molasses: it's tastier, healthier and a little less sweet.
2 to 4 large carrots
1 cup (250 mL) canned crushed pineapple
2 cups (500 mL) all-purpose flour
2 tsp (10 mL) baking powder
1 tsp (5 mL) baking soda
2 tsp (10 mL) cinnamon
½ tsp (2 mL) nutmeg
¾ tsp (4 mL) fine sea salt
½ cup (125 mL) liquid honey
¼ cup (60 mL) sugar
¾ cup (175 mL) packed brown sugar
2 tbsp (30 mL) molasses
¾ cup (175 mL) olive oil
3 free-range eggs
1 tsp (5 mL) maple extract (pure vanilla extract will do in a pinch)
½ cup (125 mL) dried pineapple, chopped, not too fine
1 Preheat oven to 350°F (180°C). Line muffin tins with cupcake papers; set aside.

2 Peel, trim, and grate carrots; measure out 2 cups (5oo mL) and set aside.

3 Drain pineapple through a sieve over a bowl, press as much of the juice out as you can; set pineapple aside.

4 Using a whisk, in a large bowl blend flour, baking powder, baking soda, cinnamon, nutmeg and sea salt; break up any clumps.

5 With a wooden spoon, in another large bowl beat together the honey, white and brown sugars, molasses, olive oil, eggs and maple extract. Beat until smooth.

6 Pour wet ingredients over dry ingredients all at once, and mix just until moistened, as you would if making muffins. Do not over-mix, as this causes the cake to be tough.

7 Add the grated carrots, drained pineapple and dried pineapple; stir just to combine.

8 Fill the cupcake liners almost up to the top. Cupcakes are done when a tester or toothpick inserted into the centre of a couple of them comes out clean, about 20 to 30 minutes.

9 Allow cupcakes to cool completely before frosting with Orange Cream Cheese Buttercream (recipe follows).

ORANGE CREAM CHEESE BUTTERCREAM

Using orange juice concentrate and zest instead of extract makes this ultra-creamy buttercream subtle and sophisticated—and softer. It's best to make it the day before so it has time to set up in the fridge. Any leftovers can be stored, covered, in the fridge for up to three days.

2 pkgs (each 250 g) cream cheese, at room temperature
½ cup (125 mL) room-temperature butter
3 cups (750 mL) icing sugar
4 tsp (20 mL) frozen orange juice concentrate, thawed or slushy
¼ cup (60 mL) orange blossom honey, solid or liquid
Zest of 1 orange
1 Place all ingredients except honey and orange zest into large bowl or bowl of a stand mixer. With hand beaters or mixer set on low, slowly begin mixing. Once the icing sugar has been dampened and pulled in, begin increasing the speed to medium. If honey is the solid kind, put it in a microwave-safe bowl and heat until liquid.

2 Drizzle the warm honey into the icing mixture while beating on medium.

3 Continue to mix on medium until completely blended and creamy-smooth, but do not over-mix as this will incorporate too much air into the icing and make it too soft. Remember to stop and scrape down the sides of the bowl now and then. Finally, add the orange zest, and stir to incorporate.

4 Transfer to a covered container, and allow to rest and set in the fridge for at least 4 hours. If you're feeling ambitious, use a piping bag to frost the fully cooled cupcakes, or simply use an offset spatula. Garnishing these might be gilding the lily, but a delicate twist of orange zest or tiny bit of dried pineapple is nice on top.
SHARE