Oaxacan Hot Chocolate
Temps des Fêtes 2019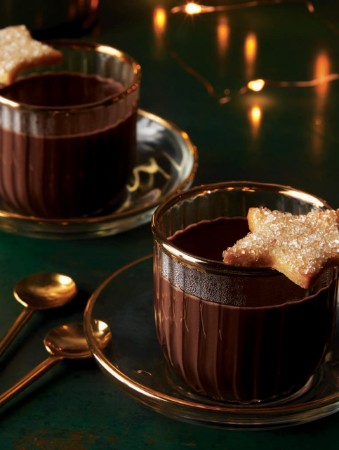 Oaxacan Hot Chocolate
Temps des Fêtes 2019
BY: Eric Vellend
A cross between a nightcap and dessert, this dark, rich, orangescented hot chocolate gets a smoky kick from mezcal. If you don't have any mezcal in your liquor cabinet, an aged rum or brandy would also work nicely.
2 cups (500 mL) whole milk
5 oz (140 g) bittersweet (70%) chocolate, chopped into ½-inch (1-cm) pieces
2 tbsp (30 mL) cocoa powder
1 tbsp (15 mL) agave syrup
1 tbsp (15 mL) fi nely grated orange zest
1 tsp (5 mL) fi nely grated ginger
⅛ tsp (0.5 mL) chipotle chili powder
Large pinch fine sea salt
6 tbsp (90 mL) mezcal
6 small cookies to garnish
1 In a medium saucepan, heat milk over medium heat just until hot. (Do not let it come to a simmer.) Remove from heat and whisk in chocolate until smooth. Whisk in cocoa powder, agave, orange zest, ginger, chipotle and salt. Return to medium heat and whisk gently and constantly until mixture thickens to the consistency of crème anglaise. Remove from heat and fine-strain into a clean saucepan, discarding solids.
2 Whisk in mezcal and place over medium-low heat. Stir occasionally until hot. Transfer to a warmed, heatproof pitcher. Pour into warmed espresso cups and garnish each drink with a cookie. Serve immediately.
SHARE