Oatmeal Raisin Cookie Balls
Printemps 2020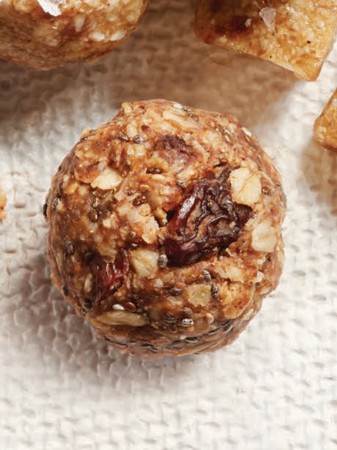 Oatmeal Raisin Cookie Balls
Printemps 2020
BY: Marcella DiLonardo
(Vegan + low sugar)
Who said you can't eat raw cookie dough? Bonus points when it's good for you, too! This recipe is inspired by the oatmeal raisin cookie, but with a healthy twist. They are packed with whole grains, nut butter and chia seeds. They're just like cookie dough without the guilt.
½ cup (125 mL) natural almond butter
¼ cup (60 mL) honey (vegan: substitute agave)
1 ½ cups (375 mL) old‑fashioned rolled oats
2 tbsp (30 mL) chia seeds
½ tsp (2 mL) ground cinnamon
1 pinch fine salt
1 tsp (5 mL) pure vanilla extract
½ cup (125 mL) raisins (see TIP)
1 In a saucepan over medium heat, whisk together the almond butter and honey until melted. Transfer to a mixing bowl and stir in the oats, chia seeds, cinnamon, salt and vanilla until well blended. Fold in raisins.

2 Refrigerate for 30 minutes to firm. Shape mixture into 15 bite-sized balls.

3 Refrigerate until ready to eat. Store in an airtight container for up to a week.
TIP
Don't like raisins? Try substituting equal parts dried cranberries, dried blueberries, or mini chocolate chips.
SHARE