Not Quite Authentic Bouillabaisse
Early Summer 2008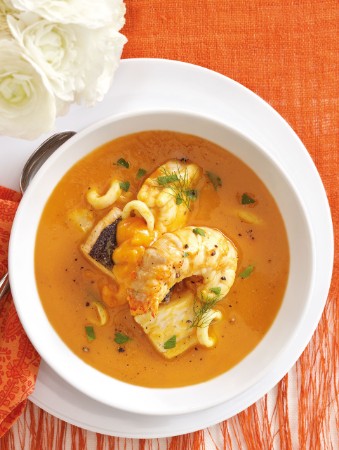 Not Quite Authentic Bouillabaisse
Early Summer 2008
BY: Lucy Waverman
It's not easy to make authentic bouillabaisse in Ontario as we cannot get some of the fish needed just for the stock itself, but this recipe makes a great near duplicate without so much work. The traditional bouillabaisse is served in two courses: first the fish, which has been poached in the broth, with potatoes on the side, and then the final soup. Here we serve it as one course with a potato-based rouille on the side. Rouille means rust coloured so we add a little tomato paste to give it the colour. To make this authentic you should make your own fish stock with fish bones and heads, which gives a rich gelatinous texture and flavour to the stock, but you can buy adequate stock from fish shops. Failing that, use chicken stock. Fish to use that is easily available includes monkfish, grouper and striped bass. If you use monkfish, cook it for 1 to 2 minutes before adding other types of fish. Seafood can include squid, clams, mussels or lobster, which can be interchanged or added to the fish. Some recipes call for toasts to be served with it and you can certainly add that if you wish.
4 lobster tails
2 tbsp (25 mL) olive oil
2 cups (500 mL) chopped onions
1 leek, white and light green part only, cleaned and chopped
1 carrot diced
1 stick celery, diced
1 cup (250 mL) diced fennel
1 tbsp (15 mL) chopped garlic
1 cup (250 mL) white wine
1 cup (250 mL) chopped canned tomatoes with juice
One 3-inch-long (8-cm) strip orange peel, white pith removed
1 tsp (5 mL) dried thyme
½ tsp (2 mL) fennel seeds
1 bay leaf
6 cups (1.5 L) fish or chicken stock or water
1 tsp (5 mL) saffron
Salt and freshly ground pepper
2 lbs (1 kg) mixed fish, cut into 1½-inch (4-cm) chunks
8 oz (250 g) squid, cut into rings

Rouille

1 tbsp (15 mL) chopped garlic
½ cup (125 mL) cooked potato
1 tsp (5 mL) tomato paste
1 tbsp (15 mL) chopped fresh red chili pepper, seeds removed or ½ tsp (2 mL) chili flakes
Pinch saffron
½ cup (125 mL) olive oil
Salt and freshly ground pepper

Garnish
2 tbsp (25 mL) chopped parsley
1. Use kitchen shears to remove shells from lobster tails. Set meat aside and break shell into pieces.

2. Heat oil in a large soup pot over medium heat. Add lobster shells, onions, leek, carrot, celery and fennel and sauté for 5 minutes or until vegetables are soft but not brown. Add garlic and sauté 1 minute longer.

3. Pour in wine and bring to boil. Reduce until ½ cup (125 mL) remains. Stir in tomatoes, orange peel, thyme, fennel seeds and bay leaf. Add stock and saffron and bring to boil. Cover and turn heat to low. Simmer for 45 minutes or until flavours are amalgamated. Remove bay leaf, orange rind and lobster shells.

4. Place soup and vegetables in a food mill or blender and purée until smooth. Return soup to pot.

5. Lightly season fish and reserved lobster tails with salt and pepper and add to soup. Simmer over medium heat for 4 to 5 minutes or until just opaque. Add squid rings and cook 2 minutes longer.

6. To make rouille combine garlic, potato, tomato paste, chili and saffron in a food processor or blend together with an immersion blender. Add olive oil slowly until mixture is well combined. Season with salt and pepper.

7. To serve, top soup with 1 lobster tail per person and parsley. Serve with rouille.
SHARE