No Fail Flaky Pastry
Autumn 2013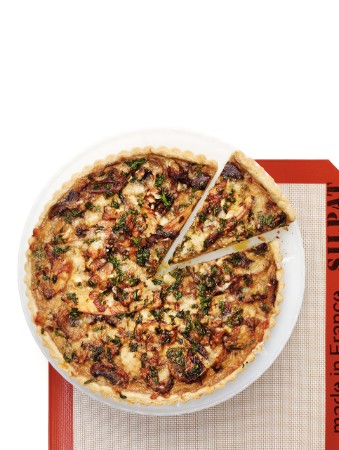 No Fail Flaky Pastry
Autumn 2013
BY: Lucy Waverman
The use of silicone to roll out pastry helps create a better crust while using less flour. To put a modern twist on the pastry, substitute regular shortening with butter or an organic shortening, like Earth Balance non-hydrogenated shortening. Using an organic alternative makes a flakier pastry.
3 cups (750 mL) all-purpose flour
1 tbsp (15 mL) granulated sugar, optional
1 tsp (5 mL) salt
¾ cup (175 mL) unsalted butter, cut in 8 pieces
¼ cup (60 mL) organic shortening, cut in 8 pieces
⅓ cup (80 mL) cold water
1 tbsp (15 mL) white vinegar or lemon juice
1 In bowl, combine flour, sugar and salt. With a pastry blender or fingers, cut in butter and shortening until mixture resembles bread crumbs.

2 Combine water and vinegar and sprinkle over flour mixture. Bring together until the pastry is moist and holds its shape.

3 Gather pastry into a ball; it should not feel sticky. Divide into 2 portions, cover with plastic wrap and refrigerate for 2 hours or overnight.

4 Place a sheet of silpat on the counter and place 1 ball in the centre. Roll out pastry to fit a 9-inch (23-cm) tart tin with a removable base.

5 Roll pastry around the rolling pin and transfer to tart pan. Prick the base and freeze for 1 hour. The dough makes enough pastry for two 9-inch (23-cm) single-crust pies or 1 double-crust pie. Freeze the second portion for another use.

6 Preheat oven to 400°F (200°C).

7 Place tart on lowest rack. Bake for 10 to 15 minutes or until pale gold.
MUSHROOM FILLING

We grow many kinds of mushrooms in Ontario, so use as many kinds as you can find to create the most diverse flavour for this recipe. The mixture barely hangs together (there is no liquid binding), unlike quiche, and the intense flavour of the mushrooms is immediately evident.

½ cup (125 mL) whipping cream
1 egg
Salt and freshly ground pepper
2 tbsp (30 mL) olive oil
1 tbsp (15 mL) butter
¼ cup (60 mL) chopped shallots
1½ lbs (750 g) mixed mushrooms
1 tbsp (15 mL) chopped garlic
2 tsp (10 mL) fresh thyme
2 tbsp (30 mL) balsamic vinegar
2 tbsp (30 mL) soy sauce
½ cup (125 mL) freshly grated Parmesan
2 tbsp (30 mL) freshly chopped parsley
1 Preheat oven to 375°F (190°C).

2 Combine whipping cream and egg. Season with salt and pepper.

3 Heat oil and butter in a skillet over medium-high heat. Add shallots and sauté for 1 minute. Add mushrooms, garlic and thyme, sauté for an additional 5 minutes or until mushrooms exude their juice and the juice begins to evaporate. Add balsamic vinegar and soy sauce and cook until evaporated, about 2 minutes. Cool in a bowl, then blend in cream and egg mixture.

4 Place into pre-baked shell. Sprinkle with Parmesan and parsley. Bake for 20 to 25 minutes, or until mushrooms are hot and shell is baked through.
SHARE