Niagara Prosciutto & Bocconcini Bundles
Autumn 2009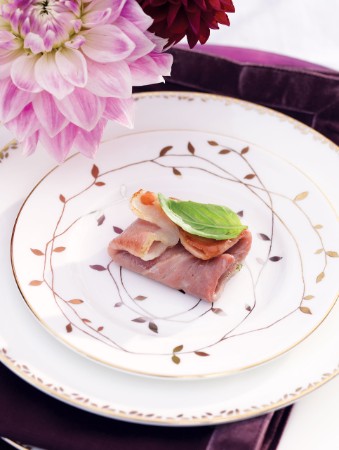 Niagara Prosciutto & Bocconcini Bundles
Autumn 2009
BY: Lucy Waverman
You can fully enclose these little nibbles to serve before dinner or you can simply roll them so that the ends are open. They are irresistible. A good way of serving them is to place one at each setting so that when you sit down there is something to enjoy before the main event. The Niagara region produces an excellent prosciutto that is worth looking for.
8 slices prosciutto
½ cup (125 mL) pesto
24 mini bocconcini balls
Salt and freshly ground pepper
2 tbsp (25 mL) olive oil
1. Cut prosciutto into thirds to make 24 squares about 4 x 4 inches (10 x 10 cm).

2. Spread about ½ tsp (2 mL) pesto on each slice of prosciutto and top with bocconcini balls. Season with salt and pepper and roll or fold prosciutto around bocconcini to enclose.

3. Heat a nonstick pan over medium heat and add 1 tbsp (15 mL) olive oil. Working in batches, adding more oil as needed, place bundles seam-side down in pan and cook for 2 to 3 minutes, turning frequently, until prosciutto is crisp and cheese is melting.

4. Serve immediately or place on a cookie sheet and reheat at 350°F (180°C) for 5 minutes or until cheese is softened.
SHARE