New Potato Gratin with Leeks and Spinach
Printemps 2007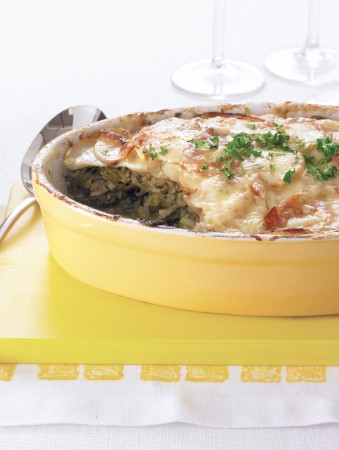 New Potato Gratin with Leeks and Spinach
Printemps 2007
BY: Marilyn Bentz-Crowley
What a terrific main course-and one that can easily be vegetarian by using vegetable stock! Serve with beets or carrots and a loaf of whole grain bread for a filling meal.
2 leeks
12 to 16 cups (3 to 4 L) lightly packed spinach, about 2 bags (8oz/250 g)
2 tbsp (25 mL) olive oil, divided
¾ cup (175 mL) chicken stock or broth
1 to 1½ tsp (5 to 7 mL) salt
¼ tsp (1 mL) fresh ground black pepper
2 lbs (1 kg) thin-skinned new white potatoes
8 oz (250 g) chèvre, about 1 cup (250 mL)
8 oz (250 g) thinly sliced Gruyère or Emmenthal cheese or 2 cups (500 mL) grated, divided
2 tbsp (25 mL) finely chopped parsley
1. Preheat oven to 400ºF 200ºC).

2. Butter a 2 qt (2 L) gratin dish or an 8 x 12-inch (20 x 30-cm) baking dish. Cut off and discard deep-green tops of leeks; slice remaining leeks in half lengthwise. Wash under cold running water to remove all sand. Thinly slice; discard root end. Remove stems from spinach; discard. Wash spinach.

3. Heat 1 tbsp (15 mL) oil in a large frying pan over medium heat. Add leeks; sauté 5 minutes or until softened. Remove from pan. Add spinach; sauté 3 minutes, turning spinach frequently, or until spinach is wilted. Turn into a colander; press with the back of a large spoon to further drain off liquid. Stir chicken broth with salt and pepper; broth should taste overly salty.

4. Using a food processor, thinly slice unpeeled potatoes. Layer half into gratin dish. Evenly top with chèvre, half of cheese slices, leeks and spinach. Top with remaining potatoes; pour over chicken stock. Brush potatoes with remaining oil. Cover dish with aluminum foil. Bake 30 minutes.

5. Remove foil from potatoes. Bake 30 to 45 minutes, uncovered, or until potatoes are tender when pierced and lightly browned. Lay remaining cheese slices overtop. Bake another 5 minutes or until cheese is melted. Serve sprinkled with finely chopped parsley.
SHARE