Napa Cabbage Slaw
Été 2007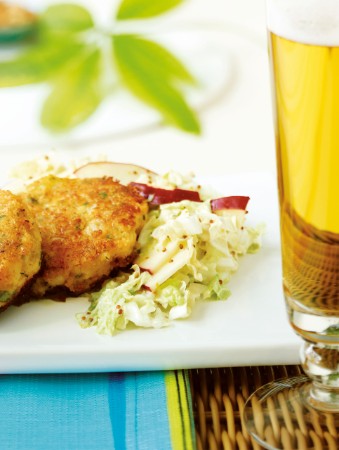 Napa Cabbage Slaw
Été 2007
BY: Tonia Wilson-Vuksanovic
Make sure to slice cabbage and apple thinly to give great texture.
1 tbsp (15 mL) grainy mustard
2 tbsp (25 mL) red wine vinegar
2 tbsp (25 mL) olive oil
2 tbsp (25 mL) mayonnaise
4 green onions, thinly sliced
Salt to taste
1 small head napa cabbage
1 red apple, such as Spartan or Ida Red
1.  Whisk together mustard, red wine vinegar, oil and green onions. Season with salt.

2.  Cut cabbage lengthwise into quarters, then into thin strips.

3.  Quarter and core apple, then thinly slice.

4.  Toss apple and cabbage with dressing and serve.

Smoky Cod and Scallion Cakes

Toasty Spanish paprika gives these cod cakes their decidedly smoky flavour. The peppers used for the spice are smoked over oak logs before being dried and ground. Once you've tried this versatile spice, which comes in hot and in sweet varieties, you'll want to use it on everything. This recipe calls for the sweet variety which lends itself well to the delicate flavour of the cod. You'll also need panko, a Japanese style breadcrumb, which will give the cakes their light texture.

2 lbs (1 kg) Yukon Gold potatoes, peeled and cubed
2 tbsp (25 mL) olive oil
5 green onions, thinly sliced
2 tsp (10 mL) garlic, finely chopped
2 tbsp (25 mL) smoked paprika
¾ cup (175 mL) milk
Salt to taste
1 lb (500 g) fresh cod fillets, cut into large cubes
½ tsp (2 mL) white pepper
2 tsp (10 mL) hot pepper sauce
2 tbsp (25 mL) Worcestershire sauce
¼ cup (50 mL) chopped Italian parsley
½ cup (125 mL) panko bread crumbs
2 tbsp (25 mL) all-purpose flour
1 egg, lightly beaten
Olive oil for frying
1.  Cover potatoes with salted water and bring to boil over high heat. Boil until tender, about 20 minutes. Strain well and return to pot.

2.  Add 2 tbsp (25 mL) olive oil to a large saucepan. Sauté green onion, garlic and paprika over medium heat until fragrant, about 1 minute. Add milk, salt and cod. Cover and cook for 10 minutes.

3.  Remove cod from cooking liquid and place in large bowl. Reserve cooking liquid. With a fork break cod into small pieces. Stir in white pepper, hot pepper sauce, Worcestershire, parsley, bread crumbs, flour and egg until well combined.

4.  Mash potatoes with cod cooking liquid. Texture should be fairly dry. Add a small amount of milk if necessary to facilitate mashing.

5.  Add potatoes to cod mixture and stir until well combined. Taste and adjust seasoning if necessary.

6.  Form twelve 1½-inch (4-cm) thick patties from fish mixture and place in refrigerator for 30 minutes to allow to firm.

7.  Add enough oil to a large nonstick skillet to coat bottom of pan. Turn heat to medium.

8.  Fry in batches until golden on both sides and heated through to the middle; about 5 minutes on each side. Add oil as needed. Keep cakes warm in low oven until all are finished. Serve with a dollop of Lemon Basil Mayonnaise (recipe follows).

Lemon Basil Mayonnaise
The lemony tang of this mayonnaise makes it great with all types of grilled fish.

1 cup (250 mL) mayonnaise
Grated rind and juice of 1 lemon
¼ cup (50 mL) chopped fresh basil
Freshly ground black pepper to taste
1.  Stir ingredients together until well combined.
SHARE