Molasses Baked Beans With Smoked Pork Chops
Winter 2011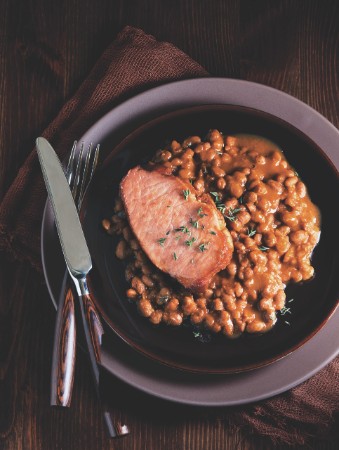 Molasses Baked Beans With Smoked Pork Chops
Winter 2011
BY: Marilyn Bentz-Crowley
These saucy beans are very mildly sweet with a hint of smokiness from ham-like smoked pork chops. For a vegetarian (vegan actually) entrée, omit the chops and get a hit of smoke by using smoked sweet paprika or smoked salt. Soaking the beans by briefly boiling adds a level of flavour to the beans as well as helping to retain shape.
1 lb (500 g) dried white beans such as navy or Great Northern
1 small onion, halved
2 to 3 large bay leaves
1 tbsp (15 mL) olive oil or butter
1 medium onion, finely diced, about 1 cup (250 mL)
1 can (156 mL) tomato paste
½ cup (125 mL) fancy molasses
1 tsp (5 mL) dried mustard or
1 tbsp (15 mL) prepared, preferably Dijon
1 tsp (5 mL) paprika
½ tsp (2 mL) salt
2 to 3 large sprigs fresh thyme
6 to 8 (at least ½ inch/1-cm thick) smoked pork chops, preferably bone-in
1 tbsp (15 mL) olive or other vegetable oil
1 tbsp (15 mL) cider vinegar
Several grindings of black pepper
Chopped fresh thyme, for garnish
1 In a large saucepan, add beans, onion and bay leaves; cover with a generous amount of water, at least 2 inches (5 cm) above beans. Bring to a boil over high heat, about 8 minutes; turn off heat. Cover; let stand at room temperature for least an hour or overnight in refrigerator. When ready to use, drain beans, discarding soaking liquid, onion and bay leaves.

2 When ready to bake, adjust rack just below centre and preheat oven to 300°F (150°C).

3 Heat 1 tbsp (15 mL) of oil in an 8-quart(about 8-litre) Dutch oven over medium heat until hot. Add onion; sauté 5 minutes or until softened. Stir in tomato paste, molasses, mustard, paprika and salt until combined. (If your bean pot is ceramic, use a large saucepan, then transfer contents to pot for oven.)

4 Stir in 4 cups (1 L) cold water; add drained beans. Bring to a boil over high heat. Tuck in thyme sprigs, cover and transfer to oven. Bake 3 hours. (Beans can be covered and refrigerated for up to 2 days; reheat and add splashes of boiling water if sauce is very thick.)

5 When initial baking time is nearly up, rub chops with 1 tbsp (15 mL) olive oil. Sauté over medium to medium-high heat for 5 to 8 minutes a side or until lightly browned.

6 Remove lid from beans; stir in vinegar. Partially submerge chops in beans, overlapping as needed. Continue baking beans (including meatless), covered, for another hour. Remove chops to warmed platter. Stir beans, adjusting sauce texture with splashes of boiling water, and pepper if needed. Taste and stir in additional salt and pepper if desired.

7 Garnish with additional chopped fresh thyme. Serve with whole wheat bread and salad tossed with vinaigrette.


SHARE