Mocha Caramel Nanaimo Bars
Temps des Fêtes 2009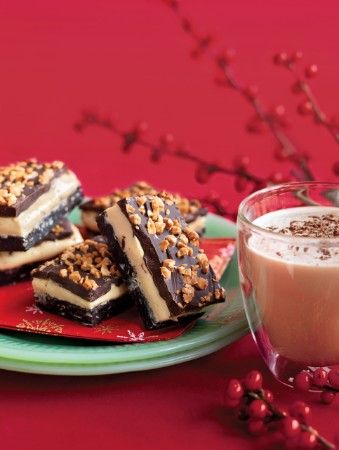 Mocha Caramel Nanaimo Bars
Temps des Fêtes 2009
BY: Anna Olson
A Canadian classic gets a sweet kick. Making dulce de leche as the centre of these squares takes the sweet to new levels. Just be sure to give yourself the two-and-a-half hours to cook the caramel concoction. An Ovaltine Café Mocha alongside is essential!
Base
½ cup (125 mL) unsalted butter, room temperature
¼ cup (50 mL) granulated sugar
1 large egg
1 tsp (5 mL) pure vanilla extract
½ tsp (2 mL) instant coffee granules
1½ cups (375 mL) chocolate cookie crumbs
½ cup (125 mL) sweetened shredded coconut
½ cup (125 mL) Skor toffee bits

Filling
1 tin (300 mL) sweetened condensed milk
1 tbsp (15 mL) custard powder
2 tsp (10 mL) pure vanilla extract
1 tsp (5 mL) instant coffee granules
3 cups (750 mL) icing sugar, sifted

Topping
8 oz (250 g) semi-sweet chocolate, chopped
2 tbsp (25 mL) unsalted butter
1 tbsp (15 mL) corn syrup
2 tbsp (25 mL) Skor toffee bits, for sprinkling
1. Preheat oven to 350°F (180°C).

2. Grease and line a 9-inch (2.5-L) square

pan with parchment paper so that the paper hangs over the sides.

3. For base, beat butter and sugar to blend.Stir in egg. In a small dish, stir vanilla and instant coffee and melt for 5 seconds in microwave. Stir into butter mixture. Add cookie crumbs, coconut and Skor bits, stirring to combine and spread into prepared pan. Bake for 15 minutes and cool.

4. For filling, remove the label from the tin of condensed milk and completely immerse in water in a medium saucepan. Bring water to a simmer and gently simmer for 2½ hours, staying nearby to top up pot with water (tin should always be completely submerged).Pour out water and let tin cool for30 minutes.

5. Carefully open tin and spoon out caramel. Stir in custard powder. Combine vanilla with coffee and heat in microwave for 5 seconds, then stir into caramel. Beat in icing sugar a half-cup at a time, until stiff, but still spreadable. Spread over cooled crust and chill for 1½ hours.

6. For topping, stir chocolate, butter and corn syrup in a bowl set over a pot of barely simmering water, until melted. Spread chocolate mixture over chilled filling and sprinkle with Skor bits. Chill for at least 2 hours before slicing. Bars can be stored chilled for up to 10 days.

Ovaltine Café Mocha

Ovaltine has a rich malted flavour that complements coffee and sweet desserts. With or without the coffee, it is a wintry hot chocolate treat.

1 shot brewed espresso, 1½ oz (45 mL)
1½ tbsp (22 mL) chocolate-flavoured Ovaltine
⅔ cup (150 mL) 1% milk
Grated chocolate, for garnish
1. Pour espresso in an 8-oz (250-mL) serving glass. Stir in Ovaltine. Steam and froth milk until hot and pour over coffee. Garnish with grated chocolate and serve.
SHARE