Mixed Vegetable Fusilli
Début de l'été 2007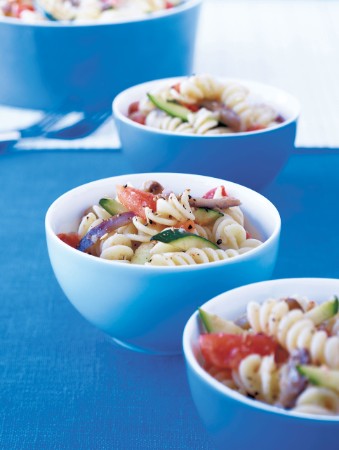 Mixed Vegetable Fusilli
Début de l'été 2007
BY: Emily Richards
Small portions of this simple pasta dish are perfect for a first course, but it has enough vegetables to satisfy your family for a full dinner. This recipe is from my cookbook, Italian Express: 150 Fast and Easy Family Favorites. Try using carrots, broccoli, cherry tomatoes or other favourite vegetables to make up your own vegetable medley.
1 small eggplant, about 8 oz (250 g)
2 small zucchini, about 12 oz (375 g)
2 tbsp (25 mL) extra virgin olive oil
1 cup (250 mL) store-bought or homemade vegetable stock
4 plum tomatoes, chopped
2 cloves garlic, minced
¼ tsp (1 mL) each salt and pepper
4 cups (1 L) fusilli pasta
¼ cup (50 mL) freshly grated Parmigiano Reggiano cheese
1. Slice eggplant into thin slices; stack and cut into matchstick-size pieces. Cut zucchini into matchstick-size pieces.

2. Heat oil over medium-high heat in large nonstick skillet. Add eggplant and cook, stirring, for about 6 minutes or until starting to turn golden. Add stock and bring to boil.

3. Add zucchini, tomatoes and garlic and cook, stirring for about 10 minutes or until eggplant and zucchini are tender but firm and sauce is slightly thickened. Add salt and pepper.

4. Cook fusilli in a large pot of boiling salted water for about 8 minutes or until tender but firm (al dente). Drain and return to the pot. Add sauce and cheese; toss to coat.
SHARE