Mixed Green Salad with Tapenade Goat Cheese Napoleons
Été 2001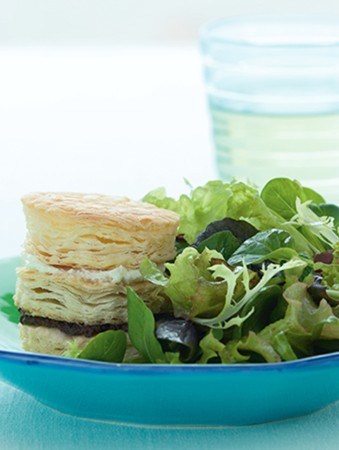 Mixed Green Salad with Tapenade Goat Cheese Napoleons
Été 2001
BY: Lucy Waverman
The secret to the napoleons is to weight the puff pastry as it bakes. This makes a crisp pastry base. The tall towers of goat cheese and tapenade are enhanced with mesclun mix or your own lettuce mix. Serve the salad beside the napoleons. Use leftover puff pastry to make more discs, freeze and use at another time.
Half a 14 oz (397 g) package puff pastry, defrosted
1/2 cup (125 mL) tapenade
1/2 cup (125 mL) goat cheese
8 cups (2 L) lettuce mix
1/4 cup (50 mL) All-Purpose Vinaigrette (see below)
1. Preheat oven to 400°F (200°C).
2. Roll out puff pastry thinly. Cut twelve 3-inch (8-cm) rounds. Place rounds on cookie sheet, prick and place a second cookie sheet on top. Bake for 20 minutes or until golden and crisp.
3. Place tapenade on 1 round, cover with second round and add goat cheese. Cover with a third round. Repeat, making 4 napoleons.
4. Return to cookie sheet and reheat when needed, in 350°F (180°C) oven for 10 to 15 minutes or until warm.
5. Place lettuce in bowl and toss with dressing. Place salad on 4 serving plates, adding a napoleon to each plate.

All-Purpose Vinaigrette
1 tsp (5 mL) Dijon mustard
2 tbsp (25 mL) red wine vinegar
2 tbsp (25 mL) balsamic vinegar
Salt and freshly ground pepper
1/2 cup (125 mL) olive oil
1. Whisk together mustard and vinegars. Season with salt and pepper. Whisk in olive oil.
SHARE