Mixed Forest Berry Platz
Été 2010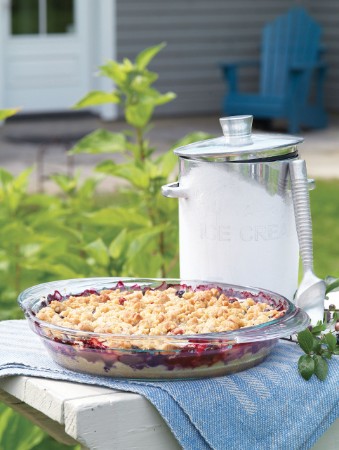 Mixed Forest Berry Platz
Été 2010
BY: LeeAnne Wright
A common Mennonite delicacy, a platz has cake on the bottom, then a layer of fruit topped off with buttery crumbs. It is the perfect pie-like dessert without the hassle of pastry. Serve with a scoop of vanilla ice cream or crème fraîche. Marzipan is usually found in 8-oz (250-g) tubes in the baking section of the grocery store. If the berries are tart, toss them with a few tablespoons of sugar. Use whatever berries are available at your local farmers'market—we used wild blueberries, amber raspberries and blackberries.
Topping

⅔ cup (150 mL) all-purpose flour
¼ cup (50 mL) firmly pack brown sugar
4 oz (125 g) marzipan (about ¾ cup/175 mL
loosely packed when grated)
¼ cup (50 mL) very cold unsalted butter

Batter

¾ cup (175 mL) all-purpose flour
¾ tsp (4 mL) baking powder
⅛ tsp (0.5 mL) baking soda
¼ tsp (1 mL) salt
¼ cup (50 mL) unsalted butter
2 tbsp (25 mL) firmly packed brown sugar
2 tbsp (25 mL) cream cheese
1 egg
¼ cup (50 mL) sour cream
3 to 4 cups (750 mL to 1 L) mixed berries
1 Preheat oven to 350°F (180°C).

2. For topping, in a bowl combine flour and sugar. Using a large-hole box grater, grate marzipan and butter over the flour. Using your fingers, mix flour, sugar, butter and marzipan until it forms small pea-sized balls.

3. In a separate bowl, whisk together flour, baking powder, baking soda and salt.

4. In another bowl, cream together butter and brown sugar. Beat in cream cheese, egg and sour cream.

5. Mix in half of the dry ingredients at a time to butter mixture.

6. Spread batter evenly over the bottom of a buttered 9-inch-deep (23-cm) glass pie plate. Top batter with fruit then sprinkle evenly with topping.

7. Bake 45 minutes or until topping is lightly browned and a toothpick inserted into bottom cake comes out clean.
SHARE