Mixed Berry Shortcake
Été 2006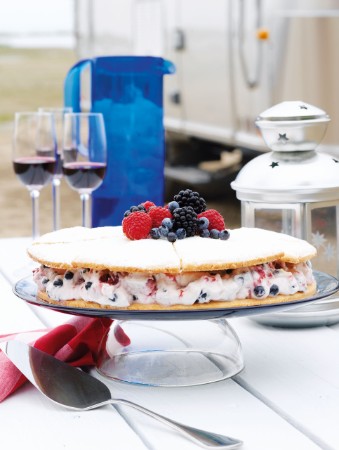 Mixed Berry Shortcake
Été 2006
BY: Jennifer McLagan
The berries in this cake all arrive on the market within days of each other. Use your favourite ones or mix the freshest ones available
Shortcake
2 cups (500 mL) flour
Pinch salt
½ cup plus 2 tbsp (125 mL plus 25 mL) butter, cubed
2 egg yolks
½ cup (125 mL) icing sugar

Filling
1 cup (250 mL) whipping cream
1 tsp (5 mL) vanilla essence
¼ cup (50 mL) icing sugar
4 cups (1 L) mixed berries, raspberries, blueberries, blackberries
Extra icing sugar for dusting
1. Place flour and salt in a food processor and pulse to blend. Add butter and pulse until mixture resembles fine breadcrumbs. Whisk the egg yolks with ½ cup (125 mL) icing sugar and pour onto the flour. Pulse just until the mixture starts to form a ball. Divide the pastry in 2, flatten, wrap in plastic and refrigerate for 30 minutes.

2. Preheat the oven to 350°F (180°C).

3. Roll out the pastry on wax paper into two 9-inch (23-cm) rounds ¼-inch (5- mm) thick. Using the paper, carefully transfer them onto 1 large or 2 regular baking sheets, removing the paper. Bake the pastry for 20 minutes or until lightly golden. Remove them from the oven and cut 1 round into 8 wedges. Leave the pastry rounds to cool on the baking sheet(s).

4. Whip the cream and vanilla with 1 tbsp (15 mL) icing sugar until firm, and then refrigerate. Toss the berries with the remaining 3 tbsp (45 mL) icing sugar.

5. One hour before serving, fold the fruit and all the juices into the whipped cream. Slide the uncut pastry round onto a serving dish and spread the fruit and cream mixture over it. Dust pastry wedges with icing sugar and place them on top of the fruit and cream mixture.


SHARE