Mini Wiener Schnitzel with Sauerkraut
Winter 2014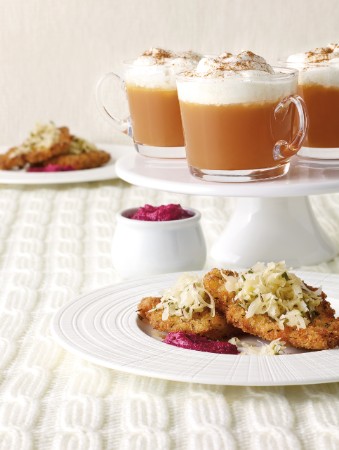 Mini Wiener Schnitzel with Sauerkraut
Winter 2014
BY: Signe Langford
Although veal is traditional, we've created a lighter version using turkey breast. But feel free to use pork or veal, if you prefer.
2 cups (500 mL) store-bought sauerkraut in wine
⅓ cup (80 mL) finely chopped or snipped fresh chives
1 tsp (5 mL) caraway seeds, optional
½ to ¾ lb (250 to 375 g) skinless, boneless turkey breast, pounded to ¼ inch (5 mm) thickness
½ cup (125 mL) flour
1 tsp (5 mL) sea salt
2 eggs, well beaten
2 tbsp (30 mL) milk
1¼ cups (310 mL) panko bread crumbs or regular, unseasoned bread crumbs
2 tsp (10 mL) dry thyme
1 tsp (5 mL) black pepper
Shortening, oil or lard for frying
1 Drain sauerkraut in a sieve over a bowl, pushing down lightly a couple of times. When most excess liquid has drained out, place the sauerkraut into a bowl with the finely chopped chives and caraway, if using, and stir to fully incorporate. Set aside in the fridge until serving time.

2 Cut the turkey breast into 4 sections and place each section between 2 sheets of plastic wrap. With a meat mallet or bottom of a heavy pan, pound the meat until it's about ¼ inch (5 mm) thick.

3 Unwrap the pounded meat and cut into squares about 3 x 3-inches (8 x 8-cm) square; set aside on a platter. You should have 16 pieces.

4 Set up a production line: in the first bowl, the flour and salt; in the next bowl the egg and milk mixture; in the last bowl the bread crumbs, thyme and pepper.

5 Dredge the turkey pieces in the flour, then the egg wash, and then into the bread crumbs, rolling the meat around in the crumbs to coat, but not pressing the crumbs into the meat.

6 Lay the breaded turkey pieces in a single layer on a cookie sheet or platter lined with parchment and refrigerate, uncovered, for about 10 minutes. This helps the coating to dry out a bit, thus becoming crunchier.

7 Set a large, high-sided skillet—cast iron is best—over medium heat. Add enough fat to create a depth of about 1 inch (2.5 cm) in the pan. Bring to about 350°F (180°C).

8 Place several pieces of breaded turkey into the hot oil, but do not crowd the pan. Flipping once, remove the mini schnitzels when each becomes golden and crunchy on both sides—about 3 minutes each side—and set aside on a cooling rack to drain over a cookie sheet or kitchen towel.

9 Serve, topped with a generous pinch of the sauerkraut and a dollop of Creamy Roasted Beet Mustard (recipe follows).
Serves 8, with 2 schnitzels per person

CREAMY ROASTED BEET MUSTARD

You'll love this creamy, smooth, nose-tingling mustard as much for its fun pink colour as you will for the taste!
1 large or 2 small red beets
Drizzle vegetable oil
⅔ cup (150 mL) hot German mustard
½ cup (125 mL) sour cream, crème fraîche or Greek yogurt
1 Preheat oven to 375°F (190°C)

2 Scrub the beet(s) and, with a tiny drizzle of vegetable oil, wrap up tightly in heavy-duty tin foil. Place directly on the oven rack and roast until a knife easily slides into the beet, anywhere between 30 minutes to an hour, depending on the size and freshness of the beets. Remove from oven and let cool in the foil wrapping.

3 When cool enough to handle, unwrap and peel the beets; the skin should just slip right off.

4 Add the soft beets, mustard and sour cream to the bowl of a food processor and blend on high until completely smooth. Transfer to a serving dish.
Makes about 1½ cups (375 mL)
SHARE