Mini S'mores Sundaes
Summer 2017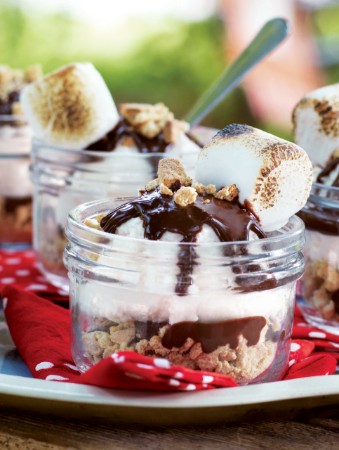 Mini S'mores Sundaes
Summer 2017
BY: Eric Vellend
These sundaes may be small in size but they are layered with big flavours and contrasting textures. Do exercise some caution when torching the marshmallows, as it only takes a few seconds. Toasted marshmallow ice cream is available at select ice cream parlours, and can be found at supermarkets that carry Summers or Gelato Fresco brands.
CHOCOLATE SAUCE
6 oz (175 g) semi-sweet chocolate, chopped
¾ cup (175 mL) whipping cream
3 tbsp (45 mL) light corn syrup
1½ tbsp (22 mL) unsweetened cocoa powder, sifted
¾ tsp (4 mL) pure vanilla extract

SUNDAES
1½ cups (375 mL) crumbled graham crackers
2½ cups (625 mL) toasted marshmallow or vanilla ice cream
8 marshmallows
1. For the chocolate sauce, place chocolate in a heatproof bowl. In a small saucepan, bring cream and corn syrup to a boil over medium-high heat. (Watch closely.) Remove from heat, pour hot cream mixture over chocolate and let stand 3 minutes. Whisk until smooth. Whisk in cocoa powder and vanilla. Cool completely. Transfer to an airtight container. Cover and refrigerate up to 2 weeks.

2. When ready to serve, reheat chocolate sauce in a bowl set over a simmering pan of water, or microwave for 10-second intervals on high, stirring after each interval until pourable.

3. For each sundae, place about 2 tbsp (30 mL) of crumbed graham crackers in bottom of a 125-mL Mason jar. Drizzle some chocolate sauce over crumbs. Top with a 2½-oz (75-mL) scoop of ice cream. Drizzle with more chocolate sauce and top with 1 tbsp (15 mL) graham crackers. Wedge a marshmallow on top. Using a blowtorch, briefly char marshmallow. (Be quick to blow it out if it catches fire.) Serve immediately.
SHARE