Mini Blueberry Lemon Layer Cakes
Summer 2011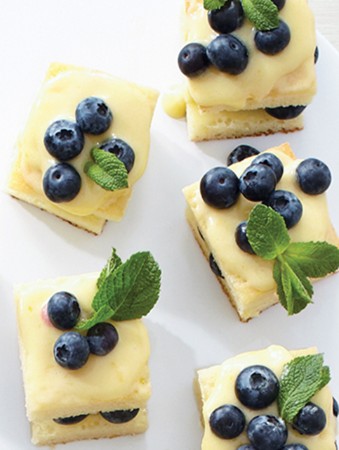 Mini Blueberry Lemon Layer Cakes
Summer 2011
BY: Jennifer MacKenzie
Individual cakes served on a platter add fun to the festivities. The buttery lemon cake,tangy-sweet curd and fresh blueberries cap the meal off perfectly. You'll need 4 or 5 lemons for the zest; you can freeze any extra juice or use it to make cocktails. The cake can be made a day ahead and the lemon curd up to three days ahead (just be sure to hide it so it doesn't disappear before the party). The cakes are best assembled just before serving, but you can arrange them on the platter up to four hours ahead, wrap them and keep them refrigerated for ease.
LEMON CURD
1¼ cups (310 mL) granulated sugar
1 tbsp (15 mL) grated lemon zest
½ cup (125 mL) fresh lemon juice
4 egg yolks
2 eggs
Pinch of salt
⅓ cup (80 mL) unsalted butter, cut into cubes
½ tsp (2 mL) vanilla extract

CAKE
2¼ cups (560 mL) all-purpose flour
1 tbsp (15 mL) baking powder
½ tsp (2 mL) baking soda
¾ tsp (4 mL) salt
¾ cup (175 mL) unsalted butter, softened
1½ cups (375 mL) granulated sugar
3 eggs
2 tbsp (30 mL) grated lemon zest
1 tbsp (15 mL) fresh lemon juice
2 tsp (10 mL) vanilla
1½ cups (375 mL) milk, at room temperature
1½ cups (375 mL) fresh blueberries
Mint leaves
1 For the lemon curd, whisk together sugar, lemon zest, lemon juice, egg yolks, eggs and salt in a large, heatproof bowl. Set bowl over a saucepan of simmering water so the bottom of the bowl is about 1 inch (2.5 cm) above the surface of the water. Cook, whisking constantly, for about 10 minutes or until curd is thick and pudding-like. Remove from heat and whisk in butter and vanilla until blended. Immediately transfer to a cool bowl, place plastic wrap directly on the surface and refrigerate for at least 4 hours, until chilled, or for up to 3 days.

2 For the cake, preheat oven to 350°F (180°C).

3 Grease the sides of a 9 x 13-inch (3.5-L) metal baking pan and line the bottom with parchment paper.

4 Combine flour, baking powder, baking soda and salt in a bowl. In a separate bowl, using an electric mixer, beat butter and sugar until fluffy. Beat in eggs, 1 at a time. Beat in lemon zest, lemon juice and vanilla. Stir in flour mixture alternately with milk, making3 additions of flour and 2 of milk. Spread into prepared pan, smoothing top.

5 Bake for about 35 minutes or until tester inserted in the centre comes out clean. Let cool in pan on a rack for 15 minutes.

6 To assemble cakes, cut cake into 24 squares, then cut each square in half horizontally.Spread cut side of bottom and cut side of top layers with about 1 tsp (5 mL) lemon curd.Arrange blueberries on bottom layers and replace top layers (cut side down) to sandwich.

7 Just before serving, place cakes on a platter, spread remaining curd on top of cakes and arrange remaining blueberries on top. Garnish with mint leaves.
SHARE