Mildly Curried Split Pea Soup
Winter 2011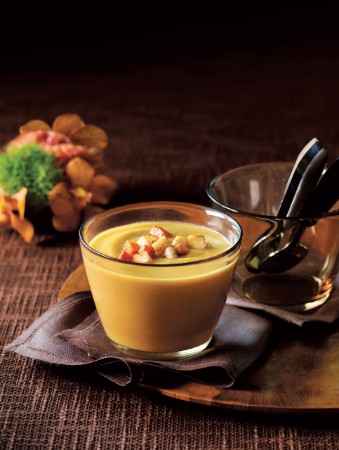 Mildly Curried Split Pea Soup
Winter 2011
BY: Lucy Waverman
Although the season doesn't offer many fresh local vegetables apart from roots, this is a good time to experiment with healthy legumes. Split peas are a real Canadian legume—we grow lots of peas in Saskatchewan, and using curry with them, rather than the usual ham bone, gives them real life.
2 tbsp (25 mL) vegetable oil
1½ cups (375 mL) chopped onions
2 tsp (10 mL) freshly grated ginger
2 tsp (10 mL) chopped garlic
1 tbsp (15 mL) mild Indian curry paste
½ tsp (2 mL) cracked fennel seeds
1 cup (250 mL) yellow split peas, rinsed
6 cups (1.5 L) chicken stock or water
1 tsp (5 mL) turmeric

GARNISH
½ cup (125 mL) diced carrot
½ cup (125 mL) diced parsnips
1 tbsp (15 mL) vegetable oil
½ tsp (2 mL) garam masala
Salt and freshly ground pepper
1 Heat vegetable oil in a pot over medium heat. Add onions and sauté for 4 minutes or until softened. Add ginger, garlic, curry paste and fennel seeds and sauté for 1 minute or until fragrant. Add split peas and sauté another minute, then add stock and turmeric and bring to boil. Simmer gently over low heat for 1 hour or until split peas are soft. Transfer soup to blender (or use a stick blender) and process until smooth. Reheat when needed.

2 Preheat oven to 400°F (200°C).

3 Toss carrots and parsnips with vegetable oil and garam masala and season with salt and pepper to taste. Place on a baking sheet and roast for 10 minutes or until vegetables are tender and slightly caramelized. Set aside.

4 Divide soup between 4 bowls and garnish with caramelized vegetables.


SHARE