Michael Sullivan's Pan-Fried Yellow Perch with Lemon Aïoli
Automne 2015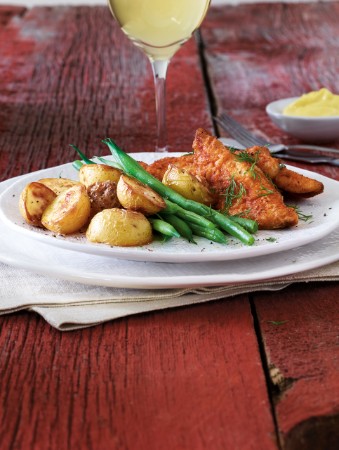 Michael Sullivan's Pan-Fried Yellow Perch with Lemon Aïoli
Automne 2015
BY: Michael Sullivan
Fresh yellow perch from a deep, cool Ontario Lake is one of the best, most delicious and most sustainable fish we have. Quickly dredging the fillets in a lightly seasoned flour mixture before frying results in a crisp, flavourful crust. A classic aïoli makes an ideal accompaniment and wouldn't be out of place alongside some roasted potatoes or simply boiled green beans, both excellent sides for the fish. Perch fillets come in different weights. Judge how many you need by serving approximately 6 oz (175 g) per person. If you prefer not to use raw egg yolks then use ⅓ cup (80 mL) mayonnaise as a substitute and use only ½ cup (125 mL) canola oil.
LEMON AÏOLI
3 egg yolks
2 tsp (10 mL) chopped garlic
⅓ cup (80 mL) extra virgin olive oil
¾ cup (175 mL) canola oil
2 tbsp (30 mL) lemon juice or to taste
Salt and pepper to taste

PAN-FRIED YELLOW PERCH
1 cup (250 mL) flour
2 tbsp (30 mL) paprika
2 tsp (10 mL) garlic powder
2 tsp (10 mL) salt
2 tsp (10 mL) freshly ground pepper
2½ lbs (1.25 kg) perch fillets
2 tbsp (30 mL) vegetable oil for frying
2 tbsp (30 mL) butter
¼ cup (60 mL) chopped dill for garnish
1 For the aïoli, place egg yolks and garlic into a food processor and process until garlic is smooth.

2 Slowly begin to drizzle in the olive oil while machine is running. Add the canola oil slowly. Mixture should be very thick. Add lemon juice. The mixture should be garlicky and lemony.

3 Season with salt and pepper.

4 For the fish, mix the flour, paprika, garlic powder, salt and pepper together in a large bowl. Dredge perch fillets in flour mixture and shake off excess flour.

5 Heat skillet on medium-high heat. Add oil and butter and heat until butter foams vigorously. Carefully add the fillets, skin-side down. Fry, skin-side down, for 2 to 3 minutes or until skin is well browned.

6 Turn over and cook another 30 seconds to 1 minute or until just cooked. Serve immediately with the lemon aïoli and chopped fresh dill.
SHARE