Masala Roast Chicken
Autumn 2006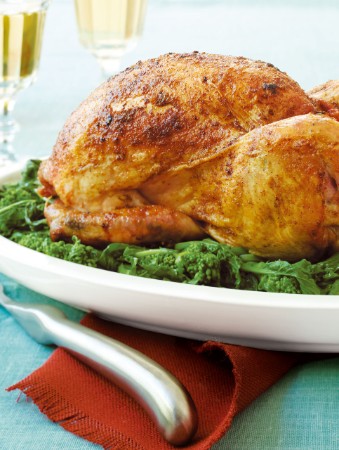 Masala Roast Chicken
Autumn 2006
BY: Sasha Chapman
The only thing that smells better than a roasting chicken is one sprinkled with an aromatic blend of garam masala-cinnamon, cardamom, cloves and other sweet Indian spices wafting through the kitchen. The garam masala recipe follows. A particularly good organic masala is available from The Spice Trader, 805 Queen St. W., Toronto, 647·430·7085. Spices can be mail ordered through info@thespicetrader.ca
Salt and pepper
One 4 to 5 lb (2 to 2.5 kg) organic chicken
1 lemon, sliced
One 2-inch (5-cm) piece of ginger, sliced
10 cloves garlic, peeled
1 tsp (5 mL) vegetable oil
1 tbsp (15 mL) garam masala
1 tsp (5 mL) sea salt
1. Preheat oven to 450ºF (230ºC).

2. Salt and pepper the cavity of the chicken and stuff with lemon, ginger and garlic. Place chicken on a rack in a roasting pan, breast-side up. Tie legs together with kitchen string. Rub skin with oil. Combine garam masala and salt in a small bowl, then sprinkle over oiled skin.

3. Roast 15 minutes, then reduce heat to 375ºF (190ºC) and roast 65 minutes more or until juices run clear.

Garam Masala
2 tsp (10 mL) black peppercorns
1 tsp (5 m) whole cloves
One 2-inch (5-cm) cinnamon stick, broken into pieces
1 tbsp (15 mL) green cardamom seeds
1 tbsp (15 mL) cumin seeds
1 tbsp (15 mL) coriander seeds

Optional Ingredients
3 bay leaves, crumbled
4 pieces mace
2 tsp (10 mL) fennel seeds
½ tsp (2 mL) fenugreek seeds
1.  Place all ingredients into a heavy, medium-hot frying pan. Dry roast, shaking or stirring the pan, until colour darkens (1 to 3 minutes), being careful not to burn the spices (for more control, roast each spice individually). Allow to cool.

2.  Grind to a fine powder with a mortar and pestle, spice mill, pepper mill or electric coffee grinder and store in an airtight container for up to six months.

3.  Remember, the proportions of these ingredients can vary drastically. Feel free to adjust them to your own taste.
SHARE