Marinated Feta with Zahtar & Chives
Printemps 2009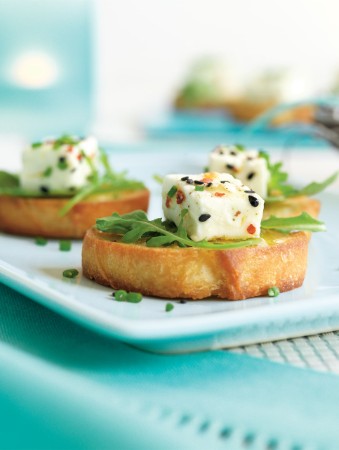 Marinated Feta with Zahtar & Chives
Printemps 2009
BY: Marilyn Bentz-Crowley
Zahtar is a fragrant blend of sesame seeds, ground sumac and thyme with a powerful and pleasing lemon scent. Purchase at Middle Eastern markets and health food stores. Once you're hooked on this taste, also try zahtar sprinkled over hummus.
7 oz (200 g) feta cheese, preferably sheep's milk, or chèvre
1⁄2 lemon
1⁄2 tsp (2 mL) zahtar
1⁄8 to 1⁄4 tsp (0.5 to 1 mL) hot chili flakes
2 tbsp (25 mL) olive oil
20 to 25 slices crostini (see TIP)
Handful of arugula, preferably baby
2 tbsp (25 mL) minced chive or green onion
Pinches of black or toasted sesame seeds
1. Using a sharp knife, cut feta into small pieces about 1⁄4 inch (5 mm) or 1⁄2 inch (1 cm) long. Place in a glass storage dish. Slice lemon in half lengthwise, forming 2 quarter lemons; remove and discard seeds. Cut crosswise into thin slices; tuck in around feta.

2. Sprinkle with zahtar and hot chili flakes. (Note: If serving right away, use greater amount of chili flakes; if storing, use the smaller amount because spicy heat increases with storage.) Drizzle with oil. Very gently mix so as to avoid breaking up cheese. Let stand at room temperature for a couple of hours. Or cover and refrigerate for up to 2 days.

3. When ready to serve, line each crostini with a small piece of arugula, letting arugula edges frill over sides. Top with a drained cube of cheese and a sprinkling of chive and sesame seeds. Serve right away. (Squeeze lemon slices into remaining marinade, which includes bits of cheese. Discard slices, cover and refrigerate. Toss with arugula at another meal for a delicious salad.)

TIP: To make crostini, preheat oven to 400°F (200°C). Cut half a baguette into 1⁄4-inch-thick (5-mm) slices; lightly brush or rub each side with olive oil. Lay in a single layer on a large baking sheet. Bake 10 minutes or until lightly browned and crisp. Cool on a rack; leave at room temperature. If making ahead, seal in plastic bag for up to 2 days or freeze; reheat for a few minutes in a warm oven if crispness is lost during storage.
SHARE