Marinated Black-Eyed Pea Salad in Toast Cups
Temps des Fêtes 2007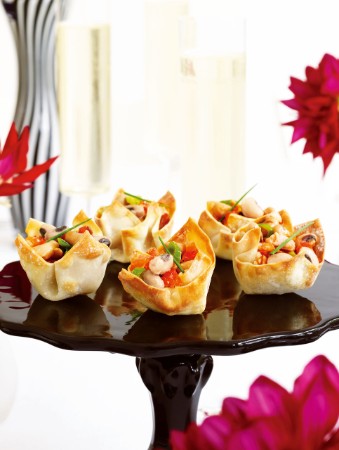 Marinated Black-Eyed Pea Salad in Toast Cups
Temps des Fêtes 2007
BY: Jennifer MacKenzie
Black-eyed peas are traditionally served in the southern U.S. on New Year's Day to bring good luck. Start out the brand new year with these zingy little appetizers and test the tradition. If black-eyed peas aren't available, black or navy beans are good substitutes. Toast cups or salad cups can be found in specialty stores and the deli section of some supermarkets. Thin slices of lightly toasted baguette are a nice alternative.
2 slices bacon, chopped
¼ cup (50 mL) diced onion
1 small sweet green or red pepper
1 cup (250 mL) drained rinsed canned or cooked black-eyed peas
3 tbsp (45 mL) red wine vinegar
½ tsp (2 mL) hot pepper sauce
1 tomato, seeded and finely diced
Salt and freshly ground pepper
16 to 20 toast cups or toasted baguette slices
1 tbsp (15 mL) chopped chives or green onion
1. Heat a skillet over medium heat. Add bacon and cook, stirring, for about 3 minutes or until almost crisp. Add onion and cook, stirring, for about 2 minutes or until onion starts to brown. Remove from heat. Stir in green pepper, black-eyed peas, vinegar and hot pepper sauce and scrape up any bits stuck to pan. Transfer to a shallow container. Cool, cover and refrigerate for at least 4 hours or up to 2 days.

2. To serve, bring marinated beans to room temperature. Stir in tomato and season with salt and pepper. Spoon into toast cups and sprinkle with chives.
SHARE