Mar-Tea-Ni
Début de l'été 2004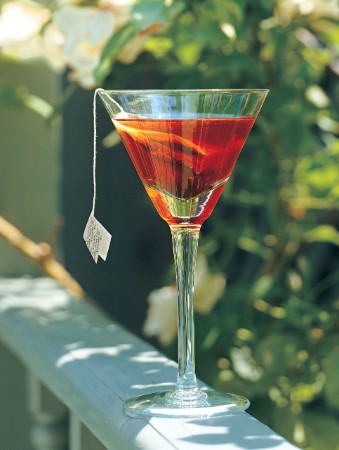 Mar-Tea-Ni
Début de l'été 2004
BY: Dana Speers
A vanilla-hazelnut tea bag infuses this delicious Martini as you sip it. You can buy vanilla-hazelnut herbal tea at health food stores and upscale food markets or, substitute any nut tea.
2 oz (60 mL) cran-raspberry juice
1 vanilla-hazelnut herbal tea bag
3 oz (90 mL) vodka
1 oz (30 mL) raspberry liqueur

Garnish:
Vanilla-hazelnut herbal tea bags
1. Put the cran-raspberry juice and the tea bag in a small bowl and refrigerate overnight. Remove the tea bag, squeeze it over the bowl and discard.

2. Fill a cocktail shaker with ice. Add the cran-raspberry juice, vodka and raspberry liqueur and shake well. Strain into 2 Martini glasses. Float a vanilla-hazelnut tea bag in each Martini.
SHARE