Maple Syrup, Macadamia Nut & Apricot-Topped Waffles
Winter 2015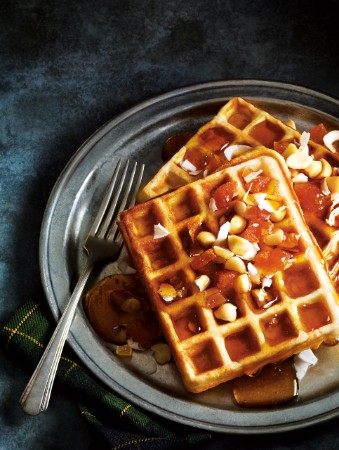 Maple Syrup, Macadamia Nut & Apricot-Topped Waffles
Winter 2015
BY: Victoria Walsh
Maple syrup is a must when it comes to waffles. And the delicious dried fruit and nut toppings intensify the maple flavour, making these fluffy waffles totally brunch-worthy.
TOPPING
½ cup (125 mL) chopped macadamia nuts
½ cup (125 mL) chopped dried apricots
1/3 cup (80 mL) flaked coconut
2 tbsp (30 mL) finely chopped candied ginger
¾ cup (175 mL) maple syrup

WAFFLES
2 cups (500 mL) all-purpose flour
¾ tsp (4 mL) salt
½ tsp (2 mL) baking soda
¼ tsp (1 mL) freshly grated nutmeg
2 large eggs
1 tbsp (15 mL) granulated sugar
1¾ cups (425 mL) buttermilk
½ cup (125 mL) unsalted butter, melted and cooled
½ tsp (2 mL) vanilla extract
1 Prepare topping by stirring nuts with apricots, coconut and ginger in a small bowl. Set aside until waffles are ready.

2 Prepare waffles by whisking flour with salt, baking soda and nutmeg in a medium bowl. Separate eggs, placing whites in medium bowl or bowl of a stand mixer and yolks in a large bowl. Using an electric or stand mixer, whisk egg whites with sugar until stiff peaks form when beaters are lifted. Whisk buttermilk, cooled butter and vanilla into egg yolks.Whisk dry ingredients into egg yolk mixture just until mixed. Gently fold in egg white mixture just until mixed.

3 Heat waffle iron. Pour approximately 1/3 cup (80 mL) into each waffle mould. Depending on the size of your waffle iron you may need to adjust this amount. Close lid and cook for 7 to 10 minutes until golden. Timing may also vary. You will need to cook and serve in batches. Serve waffles immediately with dried fruit and nut topping and generously drizzled with maple syrup. Repeat with remaining ingredients.
SHARE