Maple & Spruce Pork Roast
Holiday 2018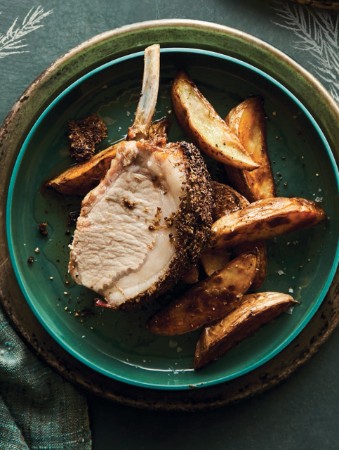 Maple & Spruce Pork Roast
Holiday 2018
BY: Christopher St. Onge
New spruce branch growths are known as spruce tips. They are available fresh for a few short weeks every spring. Off-season, dried spruce tips can be used much like any other dried herb. They have a mild piney flavour, a hint of citrus and a surprising sweetness.
BRINE
8 cups (2 L) water, divided
1 head garlic, cut in half to expose cloves
6 bay leaves
½ cup (125 mL) loosely packed dried spruce tips
1 cup (250 mL) maple syrup
1 cup (250 mL) kosher salt
1 tbsp (15 mL) whole black peppercorns
1 tbsp (15 mL) lightly crushed coriander seeds
1 length orange peel, pith removed, 6 inches (15 cm).
6-bone pork rib roast, about 4 lbs (1.81 kg).
¼ cup (60 mL) rye whisky
1 tbsp (15 mL) maple syrup
½ cup (125 mL) grainy Dijon
½ cup (125 mL) loosely packed dried spruce tips
2 cloves garlic, finely chopped
Salt and freshly ground black pepper
2 lbs (905 g) Yukon gold potatoes, quartered lengthwise
2 tbsp (30 mL) olive oil
1. To make brine, set aside 4 cups (1 L) water. Combine all remaining ingredients in a large pot; stir to dissolve salt and bring to a boil. Remove from heat, add reserved water and pour into a large resealable plastic bag. Chill for 1 hour in fridge.

2. Add pork roast to brine, removing as much air as possible before resealing. Place in fridge and brine roast for 8 to 10 hours.

3. Meanwhile, combine rye and maple syrup in a small pot; bring to a boil and reduce by half. Cool to room temperature; stir in Dijon. Using a food processor or spice grinder, coarsely grind spruce; add to Dijon mixture along with garlic, ½ tsp (2 mL) salt, and ¼ tsp (1 mL) coarsely ground black pepper (refrigerate mixture if not using within an hour).

4. Preheat oven to 400°F (200°C).

5. Remove pork from brine and pat dry; discard brine. Arrange roast in roasting pan on a rack, fat-side up. Spread mustard mixture over fat and exposed flesh, pressing to adhere.

6. Roast for 15 minutes; reduce oven temperature to 325°F (160°C) and cook 30 minutes longer.

7. Toss potatoes with olive oil and season with salt and pepper. Arrange around roast and return to the oven for 1½ hours longer, turning potatoes halfway through, until roast registers 140°F (60°C) on a thermometer.

8. Let pork rest for 15 minutes before carving and serving with potatoes.
SHARE