Maple-Smoked Pork Loin Roast
Été 2009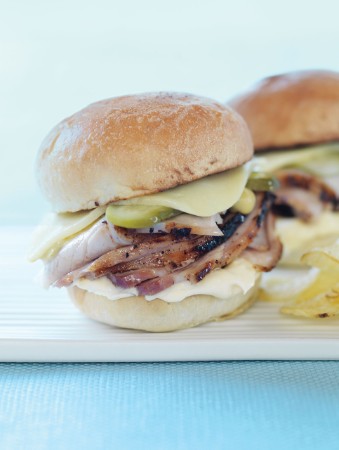 Maple-Smoked Pork Loin Roast
Été 2009
BY: Jennifer MacKenzie
Moist and tender, this dish offers flavour options—maple or apple—that were both born to harmonize with pork.
1 cup (250 mL) granulated sugar
1⁄2 cup (125 mL) kosher or pickling salt
2 bay leaves
2 tbsp (25 mL) mustard seeds
1 tsp (5 mL) whole black peppercorns
8 cups (2 L) water
3 lbs (1.5 kg) boneless pork single loin roast (not tied)
2 cups (500 mL) maple or apple wood chips
1⁄4 tsp (1 mL) freshly ground pepper
1⁄4 cup (50 mL) pure maple syrup or melted apple jelly
1. Combine sugar, salt, bay leaves, mustard seeds, peppercorns and water in a pot. Bring to a boil over medium heat, stirring until sugar and salt are dissolved. Remove from heat and let cool completely.

2. Place pork roast in a deep nonreactive container or bowl and pour in the brine. Cover and refrigerate for at least 8 hours or for up to 24 hours.

3. Soak wood chips in cold water to cover for 30 to 60 minutes. Drain chips and place in the centre of a large square of double-layered foil; wrap into a package, sealing seams. Poke several holes in the top of the package.

4. Meanwhile, preheat barbecue to medium-high.

5. Turn 1 side of barbecue off and reduce other burner(s) to medium or temperature required to maintain 325°F(160°C). Place wood chips over lit burner.

6. Remove roast from brine, discarding brine and pat roast dry. Season with pepper and brush with some of the maple syrup. When first wisps of smoke appear, place roast fat-side upon unlit side of barbecue. Cover with lid and grill for 1 to 1 1⁄2 hours, basting twice with maple syrup, until a meat thermometer reads 155°F (68°C).

7. Transfer to a cutting board and let rest for 5 minutes. If serving hot, cut into thin slices. To make ahead, let cool, wrap tightly and refrigerate for up to 2 days. To serve, slice thinly and serve cold or cut into chops and sear on a hot barbecue just until warmed.
SHARE