Maple-Mustard Pork Medallions with Two Potatoes
Printemps 2011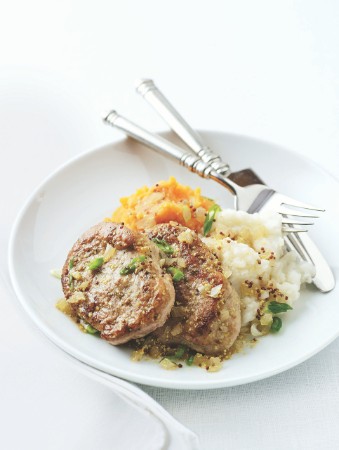 Maple-Mustard Pork Medallions with Two Potatoes
Printemps 2011
BY: Marilyn Bentz-Crowley
Pork has a natural affinity for both tang and a touch of sweetness. Here maple syrup provides contrast to tart grainy mustard while balsamic vinegar adds both colour and acidity. This is chef-style à-la-minute cooking, so get everything ready and measured before sautéing medallions. If your tenderloins are purchased as seasoned (which means semi-preserved by adding salt), do not salt meat and use low-sodium or homemade broth.
POTATOES
1¼ to 1½ lbs (625 to 750 g) baking potatoes, about 3 to 4 large
1¼ to 1½ lbs (625 to 750 g) sweet potatoes, about 2 large
1 tsp (5 mL) salt, divided
2 tbsp (25 mL) unsalted butter, divided
⅓ to ½ cup (75 to 125 mL) milk, heated

PORK
2 small pork tenderloins, each ¾ to 1 lb (375 to 500 g)
Salt and freshly ground black pepper
2 tbsp (25 mL) unsalted butter
2 tbsp (25 mL) olive oil
¼ cup (50 mL) grainy mustard
2 tbsp (25 mL) maple syrup
4 tsp (20 mL) balsamic vinegar
¼ cup (50 mL) all-purpose flour
1 cup (250 mL) finely diced Vidalia or other sweet onion
2 cups (500 mL) low-sodium beef or chicken broth
2 to 3 tbsp (25 to 45 mL) thinly sliced green onions, snipped chives or chopped parsley
1. Peel each potato type and place in separate medium-sized saucepans; cover potatoes with cold water. (If making ahead, cover pan and let sit for up to 3 to 4 hours at room temperature.)

2. Bring each pan to a boil over high heat; reduce heat to a simmer. Cook 20 to 25 minutes or until completely softened. Drain; salt each with ½ tsp (2 mL) salt and add to each1 tbsp (15 mL) butter. Using a potato masher, mash thoroughly. Add milk as needed to white potatoes to achieve proper texture. Keep warm (for up to an hour).

3. Meanwhile, remove pork's exterior tough silver skins and any fat; then crosswise cut into 1½-inch-thick (4-cm) chunks. Up-end on plastic wrap; cover with more plastic. Use a meat pounder or heavy frying pan to easily flatten into medallions to about ½ inch (1 cm) thick. Lightly season with salt and more generously with freshly ground black pepper. (Do not use any salt if tenderloins were purchased as "seasoned.") Refrigerate until needed, up to a day.

4. Melt butter and mix with olive oil (all of this mixture may not be needed). Stir mustard with syrup and vinegar. Assemble remaining ingredients, as medallions sauté very quickly.

5. Sauté pork medallions in 3 or 4 batches. Heat a large frying pan over medium heat until quite hot. Meanwhile, dip a few pieces of pork into flour; shake off excess. Add a tablespoon of oil mixture to pan and several pieces of pork—do not crowd the pan! Sauté, deep plate adjusting heat as needed, until browned, about 3 minutes per side. Keep on a deep plate while repeating as needed with remaining pork, flour and oil mixture. (The sautéed pork is pink inside.) Discard any remaining flour.

6. When finished sautéing (and without cleaning), return pan to heat. Add another 1 tsp (5 mL) oil mixture only if needed to sauté added onion. Sauté onion for 2 minutes or until softened. Slowly stir in broth; bring to a boil. Boil over medium-high heat 3 minutes to reduce slightly. Stir mustard mixture into sauce. Continue to bubble until sauce-like, about 6 minutes.

7. Return pork and any juices to sauce; heat 2 minutes, turning medallions once, or until hot.

8. Place heaps of mashed potatoes on warmed serving plates. Lean several medallions of pork against mound; nap with some of the sauce. Garnish with a scattering of green onion, chive or parsley. Pass remaining sauce at table.



SHARE