Maple-Fig Brandy Butter
Holiday 2014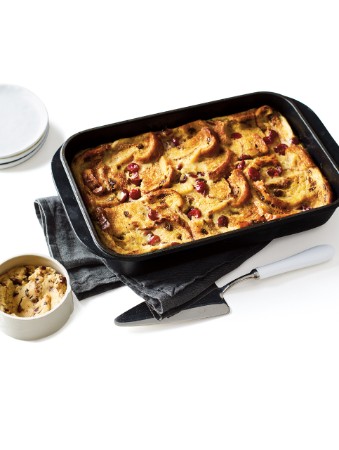 Maple-Fig Brandy Butter
Holiday 2014
BY: Signe Langford
A healthy dollop of brandy butter, or hard sauce, over the Christmas pudding is a fine old British tradition. Warming and decadent, our maple version is a little more Canadian, and the chopped, brandy-plumped figs add a delightful crunch.
8 dried figs
¾ cup (175 mL) brandy
1 cup (250 mL) salted butter, brought to room temperature
2 tbsp (30 mL) maple syrup
1 tsp (5 mL) maple extract
1¼ cups (310 mL) icing sugar
1 Add the figs and brandy to a small saucepan over low heat. Cover and let simmer for 3 minutes, then remove from the heat and let sit, uncovered, until completely cool.

2 Strain the figs, reserving brandy. Finely chop the figs.

3 Add butter, maple syrup and maple extract to the bowl of a stand mixer. Beat together on medium-low until butter is creamed. You can also use a hand mixer.

4 Turn the beater up to medium speed and add the icing sugar a few tablespoons at a time, alternating with 1 tbsp (15 mL) reserved brandy to a maximum of 6 tbsp (90 mL), depending on taste. If there is not enough reserved brandy, use some from the bottle. The butter may split after adding brandy, but beating it on high will bring it back together.

5 Once all the sugar and brandy has been incorporated, beat on high until the butter is fluffy. Stir in chopped figs with a spatula.

6 Transfer to a serving dish and refrigerate for 30 minutes or until the consistency of ice cream. Bring to room temperature before serving.
Makes about 2 cups (500 mL)
SHARE