Maple Cream Cheese-Frosted Carrot Cake
Winter 2015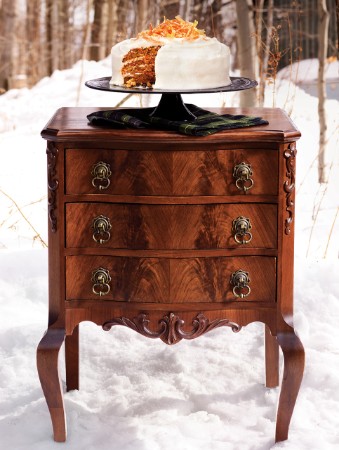 Maple Cream Cheese-Frosted Carrot Cake
Winter 2015
BY: Victoria Walsh
The addition of sweet maple syrup to both the frosting and the cake batter gives this classic-style carrot cake some serious maple flavour and a lovely moist texture. Cake tastes best the day it's made. If making ahead, cake will keep well, covered and refrigerated for 2 to 3 days. Bring to room temperature before serving.
CAKE
Cooking spray or butter
2 cups (500 mL) all-purpose flour
1½ tsp (7 mL) baking powder
1 tsp (5 mL) baking soda
½ tsp (2 mL) ground cinnamon
½ tsp (2 mL) salt
3 to 4 large carrots
4 eggs
1 cup (250 mL) lightly packed brown sugar
¾ cup (175 mL) vegetable oil
½ cup (125 mL) maple syrup
½ tsp (2 mL) maple extract

FROSTING
500 g block cream cheese, at room temperature
1 cup (250 mL) unsalted butter, at room temperature
½ cup (125 mL) maple syrup
3 cups (750 mL) icing sugar, sifted
½ tsp (2 mL) maple extract
1 Preheat oven to 350°F (180°C). Prepare two 8-inch (20-cm) round cake or springform pans by spraying with oil or greasing with butter and lining with parchment paper.

2 Prepare cake by whisking flour with baking powder, baking soda, cinnamon and salt in a large bowl. Peel carrots. Grate using a grater or food processor and measure out 3½ cups (875 mL).

3 Whisk eggs with brown sugar, vegetable oil, maple syrup and extract. Stir grated carrots into dry ingredients until evenly mixed. Fold dry ingredients into wet ingredients until evenly mixed. Divide between prepared pans.

4 Bake in centre of preheated oven for 25 to 30 minutes until a cake tester inserted into centre of cake comes out clean. For even baking, switch pan positions halfway through baking. Remove to cooling racks. Let cool for 10 minutes, then run a knife around edge of each cake. Turn cakes out onto racks.

5 Meanwhile, prepare maple cream cheese frosting. Place cream cheese, butter and maple syrup together in a medium bowl. Using an electric mixer, beat on low until evenly mixed. Slowly add icing sugar until evenly mixed, scraping down sides as needed. You may need to continue beating on medium speed until smooth. Beat in extract. Refrigerate for at least 3 hours to firm up.

6 When cakes are completely cool, slice each in half using a serrated knife. You should have 4 cakes in total. Set 1 cake on a cake plate or serving dish. Dollop with about ¾ cup (175 mL) maple cream cheese frosting. Evenly spread to the edges. Continue with remaining cakes and frosting, arranging the last cake cut-side down to avoid crumbs in the frosting. Spread remaining frosting over sides of cake (see TIP for optional garnish). Cut and serve.

TIP Candied Carrot Garnish: Preheat oven to 250°F (120°C). Pull long thin strips from a medium-size carrot. Stir 3/4 cup (175 mL) sugar, 3/4 cup (175 mL) water and a pinch of salt in a medium saucepan. Set over medium heat. Stir occasionally. When sugar is dissolved, carefully add carrot strips, submerging them. Cook for 10 to 15 minutes until they begin to become quite translucent. When carrot strips are cool enough to handle, use a fork or tongs to carefully remove strips to a greased rack set over a baking sheet. Dry in preheated oven for 20 to 25 minutes until candied. Remove to parchment. Cool completely before piling and arranging over top of frosted cake.
SHARE