Maple Cream Cheese-Chèvre Frosting
Automne 2014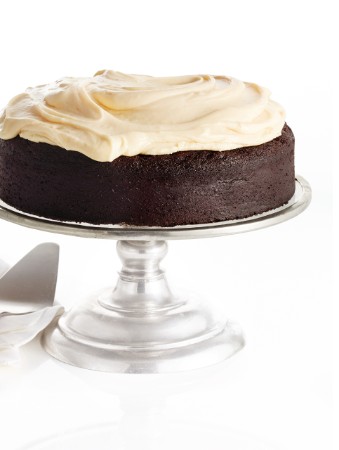 Maple Cream Cheese-Chèvre Frosting
Automne 2014
BY: Signe Langford
We've added zingy chèvre to this frosting for a bit of tanginess. It will offer a little balance to a sweet cake.
⅓ cup (80 mL) butter, room temperature
½ cup (125 mL) full-fat cream cheese at room temperature
½ cup (125 mL) chèvre or soft, unripened goat cheese at room temperature
2½ cups (625 mL) icing sugar
1 tsp (5 mL) maple extract
1 In the bowl of a stand mixer or using a hand mixer and a large bowl, lightly whip the butter, cream cheese and goat cheese together until smooth.

2 Add the icing sugar and maple extract and continue to beat until creamy and spreadable. If your kitchen is very warm, the frosting may appear too runny, so you may want to chill the frosting in the fridge for a few minutes before icing a cake.

3 Use an offset spatula to ice the top of cake. If desired, garnish with a sprinkle of maple sugar flakes, maple sugar candies, shaved dark chocolate or more crystalized ginger.
SHARE