Maple & Chai Sticky Toffee Pudding Parfait
Automne 2013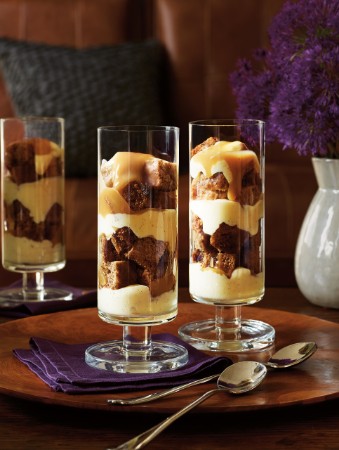 Maple & Chai Sticky Toffee Pudding Parfait
Automne 2013
BY: Christopher St. Onge
It's almost impossible to resist eating a messier version of this sticky toffee parfait while it's still warm. If you can wait for the toffee sauce and custard to chill and thicken further, the components can be assembled in a neat and tidy dinner-party-worthy layered dessert. Either way, you'll want more.
MAPLE TOFFEE SAUCE
1 cup (250 mL) maple syrup
⅓ cup (80 mL) whipping cream
2 tbsp (30 mL) salted butter

CUSTARD
1 vanilla bean, split lengthwise
2 cups (500 mL) half-and-half cream
4 egg yolks
5 tsp (25 mL) cornstarch
3 tbsp (45 mL) sugar

CHAI CAKE
1¼ cups (310 mL) all-purpose flour
1½ tsp (7 mL) baking powder
½ tsp (2 mL) each ground ginger, cinnamon
¼ tsp (1 mL) ground cardamom
Pinch ground star anise
¼ tsp (1 mL) salt
1 cup (250 mL) pitted and chopped Medjool dates
1 cup (250 mL) strong chai tea
½ tsp (2 mL) baking soda
6 tbsp (90 mL) butter, softened
½ cup (125 mL) packed dark brown sugar
2 eggs
1 For the maple toffee sauce, bring maple syrup to a boil over medium heat in a large saucepan. Reduce to ½ cup (125 mL), 7 to 8 minutes. Pour in cream and stir to combine. Remove from heat and whisk in butter. Reheat over low if you wish to serve warm, otherwise sauce will keep covered in refrigerator for a week.

2 To make custard, scrape seeds from vanilla bean and add, along with pod, to a medium saucepan. Pour half-and-half cream overtop. Whisk to break up vanilla seeds and bring to a simmer over medium heat. Immediately remove from heat; remove and discard pod.

3 In a medium bowl, whisk together egg yolks, cornstarch and sugar. Stirring constantly, slowly pour warm half and half mixture over egg mixture. Return mixture to pot and set over low heat. Cook, whisking constantly, until thickened and mixture holds in a soft mound on a spoon, 10 to 12 minutes (do not allow mixture to boil otherwise eggs may scramble). Remove from heat and cover until ready to serve. If making ahead, cover and refrigerate for up to a week.

4 To prepare chai cake, preheat oven to 350°F (180°C). Whisk together flour, baking powder, ginger, cinnamon, cardamom, star anise and salt in a small bowl.

5 Bring dates and tea to a simmer in a medium saucepan over medium heat. Reduce heat to low and cook for about 4 minutes or until dates have softened. Remove from heat, stir in baking soda and set aside.

6 In a separate large mixing bowl, beat butter and brown sugar until light and fluffy. Beat in eggs. Stir in flour mixture; fold in date mixture. Scrape into a buttered 9 x 13-inch (23 x 33-cm) baking dish. Bake for 18 to 20 minutes or until a toothpick comes out clean. Remove to a rack and allow to cool for 10 minutes (or if a tidier parfait is desired, allow to cool to room temperature).

7 To serve, turn cake out onto a cutting board and cut into 1-inch (2.5-cm) pieces. Spoon 2 tbsp (30 mL) custard into the bottom of 8 parfait glasses. Divide half of the chai cake between the glasses. Drizzle each with 1 tbsp (15 mL) of maple sauce. Top with an additional 2 tbsp (30 mL) custard, divide remaining cake between glasses and finish each with a small dollop of custard and a drizzle of sauce (if serving chilled, finished parfaits may be refrigerated for up to 6 hours).
SHARE