Mango Shrub
Printemps 2017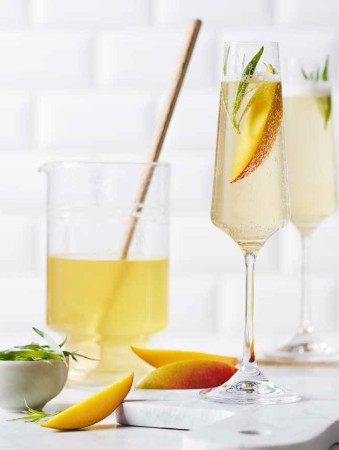 Mango Shrub
Printemps 2017
BY: Lucy Waverman
A shrub base is a centuries-old vinegar and-sugar mixture used to infuse fruit and herbs. After straining, the syrup is used with wine or in cocktails. Tarragon is a great choice as it has so much aromatic flavour but is not sharp.

Shrubs can be made two ways: either by heating the sugar and vinegar together or by a cold process of stirring the mixture together. The hot process is easier as the sugar dissolves and there is not a big flavour difference. Using fruit that is just on the edge of being overripe provides the best flavour. Leftover shrub syrup will last a month in the refrigerator and is good for marinating fruit. A couple of tablespoons in a marinade for chicken is another excellent use. Substitute strawberries for the mangoes if desired. Use cider vinegar if white balsamic is not available.
2 cups (500 mL) sugar
2 cups (500 mL) white balsamic vinegar
1 cup (250 mL) tarragon leaves
2 cups (500 mL) peeled and chopped very ripe mango, about 1 large mango
1 bottle (750 mL) Cave Spring Cellars Blanc de Blancs Brut sparkling wine
1 Combine sugar, white balsamic and tarragon in a pot and bring to a boil. Remove from heat and cool. Add the mango and let sit overnight in the refrigerator for best flavour.

2 Strain syrup, pressing down on the solids to extract as much flavour as possible. Refrigerate the strained mango tarragon shrub until needed.

3 To make the cocktail, pour 1 oz shrub into a glass and top with 3 oz sparkling wine per glass.
SHARE