Macadamia Nut Brittle
Temps des Fêtes 2005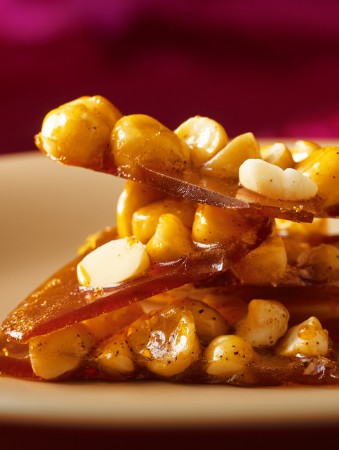 Macadamia Nut Brittle
Temps des Fêtes 2005
BY: Jennifer McLagan
This is a great treat for the holiday season either to snack on or give away. The chili powder is optional. Try it - i t gives just a touch of heat that balances the sweetness.
1 cup (250 mL) macadamia nuts
1 cup (250 mL) sugar
½ cup (125 mL) water
¼ tsp (1 mL) chili powder (optional)
Pinch of salt
1. Preheat the oven to 350ºF (180ºC).

2. Place the nuts on a baking sheet and toast them in the oven for 7 to 10 minutes or until they are fragrant and lightly browned. Place them in a bowl and toss with chili powder, if using, and salt. Set nuts aside. Line a second baking sheet with parchment paper.

3. Place the sugar, water in a saucepan over medium heat. Stir until the sugar dissolves, then increase the heat and cook without stirring. Use a wet pastry brush to remove any residual sugar from the sides of the pan and continue to cook until the sugar turns a deep caramel colour, about 15 minutes. (The sugar will reach the hard crack stage or 300ºF (150ºC) on a sugar thermometer.)

4. Remove the caramel from the heat and tip in the nuts. Stir to coat, then pour the mixture onto the parchment-lined baking sheet. Let cool and then break into pieces and store in an airtight container.

Tips
Make sure your nuts are unsalted if you wish to cook with them. Store the nuts in the refrigerator or freezer to keep them from turning rancid. Roasting the nuts brings out their flavour. Look for macadamia nut oil, which is higher in mono-unsaturated fats than olive oil.
SHARE