Lost Passport
OCTOBRE 2020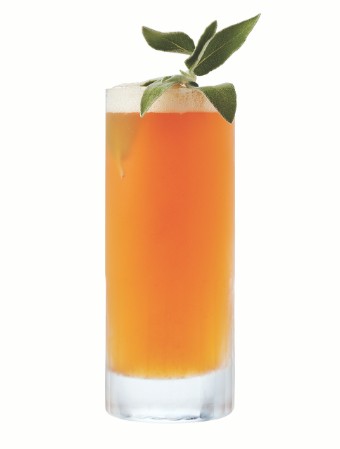 Lost Passport
OCTOBRE 2020
BY: Alex Pearce
Ontario rye gets a boost of spice with local sumac and fresh sage, which add an herbal element to the bitter Ontario IPA.
1½ oz Lot No. 40 Single Copper Pot Still Canadian Whisky
4 oz Ontario IPA beer
3 to 4 sage leaves
¼ oz Sumac Syrup (see recipe below)
¼ oz freshly squeezed lemon juice
Add 1 sage leaf to a tall glass, such as a collins. Gently muddle. Fill glass with ice. Add rye, syrup and lemon juice. Top with beer. Stir to mix. Garnish with remaining sage leaves.

Sumac Syrup
1 cup (250 mL) granulated sugar
1 cup (250 mL) water
1 tsp (5 mL) sumac spice
Stir together sugar, water and sumac in a small pan set over medium-high heat. Bring to a boil, stirring occasionally. Reduce heat to medium-low. Gently simmer, allowing flavours to infuse, 8 to 10 minutes. Remove from heat. Let cool completely. Fine-strain. Syrup will keep well, stored in a resealable container in the fridge, for up to 2 weeks.
Makes about 1 cup (250 mL)
SHARE