Lightened Quiche Lorraine
Printemps 2009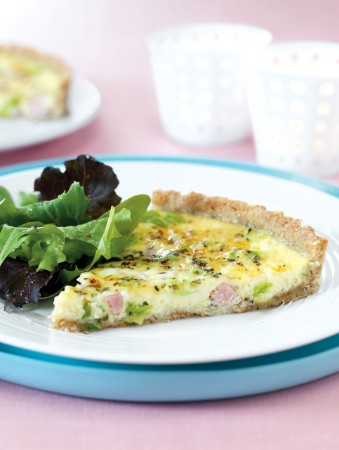 Lightened Quiche Lorraine
Printemps 2009
BY: Emily Richards
Quiche is an easy, tasty dish to make for brunch or lunch for guests. The classic is made with rich butter pastry and cream and whole eggs in the filling. This lightened up version gives you an earthy whole-wheat crust and a creamy filling using evaporated skim milk and fewer whole eggs. Look for precooked extra lean Canadian bacon where you find other low-fat bacon options in the grocery store.
Crust
1 cup (250 mL) whole-wheat flour
1⁄4 tsp (1 mL) pepper
Pinch salt
2 tbsp (25 mL) canola oil
3 tbsp (45 mL) evaporated skim milk

Filling
2 eggs
3 egg whites
3⁄4 cup (175 mL) skim evaporated milk
1⁄2 tsp (2 mL) herbes de Provence (available in spice aisle)
4 slices extra-lean Canadian back bacon, chopped
1⁄2 cup (125 mL) grated 2-year-old cheddar cheese
2 green onions, chopped
1. Combine flour, pepper and salt. Add oil and milk and stir until mixture is combined and holds together. Press dough into a disc and roll out between 2 pieces of wax or parchment paper. Roll out to fit a 9-inch (23-cm) flan pan or pie plate and crimp edges. Prick pastry with fork.

2. Preheat oven to 400°F (200°C).

3. Line pie shell with foil and pie weights or dry beans. Bake in centre of oven for about 10 minutes. Remove foil and weights and bake for 8 minutes or until light golden. Let cool.

4. For filling, whisk together eggs and egg whites, evaporated milk and herbes de Provence; set aside. Sprinkle bottom of crust with bacon, cheese and green onions. Gently pour egg mixture overtop.

5. Bake for about 20 minutes or until knife inserted in centre comes out clean. Let cool slightly before serving.
SHARE