Lemon & Wildflower Honey Tarts
Début de l'été 2019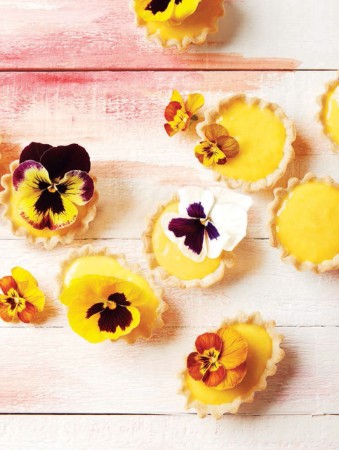 Lemon & Wildflower Honey Tarts
Début de l'été 2019
BY: Eshun Mott
Wildflower honey is the key to making these lemon tarts special, and the flavour ties in beautifully with the garnish of fresh violas. You can make the pastry shells up to two days ahead and store in a tightly sealed container. If you have fluted tartlet pans that are shapes other than round, just cut the pastry to an appropriate size with a paring knife. The lemon curd can be made up to a week ahead. Assemble just before serving.
PASTRY
1 cup (250 mL) all-purpose flour
2 tbsp (30 mL) powdered sugar
¼ tsp (1 mL) salt
1 large egg yolk
1 tbsp (15 mL) cold water
⅓ cup (80 mL) unsalted butter, softened

LEMON FILLING
1 large egg plus 1 egg yolk
¼ cup (60 mL) freshly squeezed lemon juice
1 tbsp (15 mL) grated lemon zest
⅓ cup (80 mL) wildflower honey
Pinch salt
2 tbsp (30 mL) unsalted butter, cut into cubes
Pansies, violets or johnny-jump-ups, for garnish
1 Sift flour, sugar and salt together into a small bowl. In another small bowl whisk egg yolk and water together. Set aside.

2 Place butter in the bowl of a food processor and process until smooth. Scrape down sides, add flour mixture, pour egg-yolk water mixture overtop and process just until it comes together. Knead gently to bring dough together into a ball, shape into a rough square, wrap in plastic and place in the fridge for at least 1 hour, or up to 3 days.

3 Roll out cold pastry on a floured surface to about a 12-inch (30-cm) square (pastry should be about ª inch/3 mm thick). Use a 3½-inch (9-cm) round cutter to cut out 12 rounds and fit into 2½-inch (6-cm) fluted tartlet shells. Prick bases of pastry with a fork. Place in the freezer for 10 minutes or until completely firm. Line each tartlet with a piece of foil and pie weights.

4 Preheat oven to 350°F (180°C).

5 Place prepared tartlet shells on a baking sheet and bake for 12 minutes. Remove foil and weights and bake for 8 minutes longer or until pastry is golden and cooked through. Let cool then carefully remove pastry shells from tins and place on a serving dish.

6 Whisk egg and yolk together in a small heavy-bottom pot. Add lemon juice, zest, honey and salt and whisk until uniform. Add cubes of butter. Place over medium-low heat and cook, whisking constantly, until butter has melted and mixture has thickened enough that you can see the bottom of the pot as you whisk. Immediately scrape lemon curd into a clean bowl and press a piece of plastic wrap into the top. Chill until thickened and ready to serve.

7 When ready to serve, use a teaspoon to fill tartlet shells with lemon curd and garnish each with a fresh pansy or a few violets.
Makes twelve 2½-inch (6-cm) tartlets
SHARE