Lemon-Grass Shrimp Skewers with Saigon Slaw
Summer 2017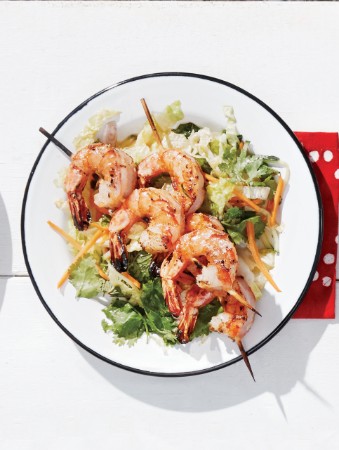 Lemon-Grass Shrimp Skewers with Saigon Slaw
Summer 2017
BY: Eric Vellend
Fragrant with lemon grass and smoky from the grill, these Vietnamese-style shrimp pair nicely with a light, crunchy salad of julienned vegetables and fresh herbs. Since napa cabbage is delicate, it's best to dress the slaw as close to serving as possible.
SHRIMP
8 bamboo skewers, each 6 inches (15 cm) long
24 jumbo shrimp, about 1 lb (500 g)
1 stalk lemon grass
2 cloves garlic, finely grated on rasp
1 tsp (5 mL) finely grated ginger
2 tbsp (30 mL) vegetable oil
Salt and freshly ground pepper to taste

SAIGON SLAW
1 small garlic clove, grated on rasp
2 tbsp (30 mL) granulated sugar
2 tbsp (30 mL) fresh lime juice
2 tbsp (30 mL) rice vinegar
3 tbsp (45 mL) Asian fish sauce
3 tbsp (45 mL) vegetable oil
¼ cup (60 mL) thinly sliced shallot
½ lime
1 lb (500 g) napa cabbage, thinly sliced, about 8 cups (2 L)
1 medium carrot, peeled, julienned
⅓ English cucumber, julienned, patted dry with paper towel
1 cup (250 mL) cilantro leaves
½ cup (125 mL) mint leaves
1. For the shrimp, soak skewers in hot water at least 30 minutes.

2. Peel and devein shrimp, leaving tail sections intact. Rinse thoroughly under cold running water. Pat dry with paper towel. Set aside.

3. Trim and discard tough outer layers of lemon grass. Trim tops leaving only tender white and light green heart. Finely grate on rasp until you have 1 packed tbsp (15 mL). Add to shrimp with garlic, ginger and vegetable oil. Season with salt (if necessary, as most frozen shrimp are quite salty) and pepper. Drain skewers and thread 3 shrimp per skewer. Cover and refrigerate at least 2 hours and up to 6 hours.

4. For the Saigon slaw, whisk garlic, sugar, lime juice, rice vinegar, fish sauce and vegetable oil until sugar is dissolved. Stir in shallot. Cover and refrigerate up to 1 day.

5. Preheat grill to high.

6. Clean and oil barbecue grate. Grill shrimp until cooked through, about 2 minutes per side. Squeeze the half lime over shrimp. In a large mixing bowl, combine napa cabbage, carrot, cucumber, cilantro and mint. Add dressing. Mix gently with tongs.

7. Divide skewers and slaw among 8 small plates.
SHARE